The Greatest! Mohammed Ali Turns 70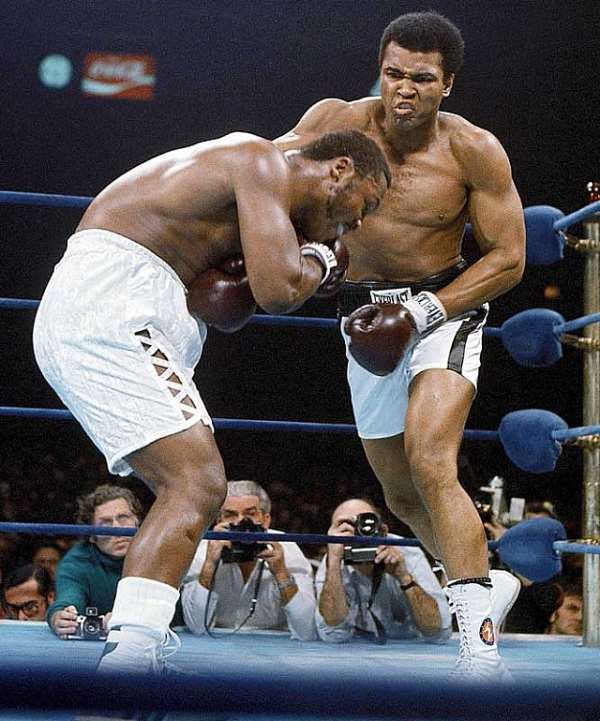 The Ring King Mohammed Ali
The King Of Kings Mohammed Ali Is 70 Years
The steel body Mohammed Ali has now bent and his quick movement has become a tractor movement, his trembling arms are supported by wife and daughter, the voice no more audible. It hurts, to see Mohammed Ali suffer. You and I would like to help him but we know that this is not possible.
Many fear that every public appearance of Mohammed Ali could be his last.
The greatest boxer of all time is on his 70 birthday, he commits in his home town of Louisville, from parkinson's disease. He knows that he will lose this battle. At his difficult old age Ali is still fighting, as he did before and which made him one of the greatest legends in the sport worldwide.
Mohammed Ali was a great artist in the fist combat, he was perfection in his field and fascinated by his charisma outside the ring, he was able to turn millions of people all over the world from sleep and dragged before the television screens.
He is one of the most popular figures on earth. At the same time Mohammed Ali was provocative and narcissist, he castigated, attacked leaders, denounced racism and Vietnam war. The former three times world champion is hero and myth. "He is known as the Pope probably the best known figure on the Earth," says boxing manager Wilfried Sauerland, who met Ali twice.
When Mohammed Ali was still Cassius Clay at the age of twelve his sense of Justice to boxing drove him. The black boy wanted to punish those who had stolen his bicycle from him. Six years later, 1960 in Rome, the smart young guy became Olympic champion. At this age and that time his coin landed in the Ohio River from a restaurant in his own home town for being denied because of his skin colour.
All though some Ali biographers doubt it, when he mentioned the loss of his coin in the restaurant in his own home town, there was a new gilded plaque in 1996, when he was drawn by metabolism before billion TV viewers with shaky hand that was able to ignite the Olympic torch in Atlanta. There, even those once stirred into his heart, who once rejected him joined him.
Ali was straight forward, but also contradictory but he still worked very hard towards his rhetorical talent and became a very big boxing entertainer. Even outside the ring Ali was notorious for his primal scream, "I am the greatest." With his rival, he had mostly no good hair, It was usually almost the same provocation "ugly", "Bum", "Illiterate" or "In jail Boxer".
"I have shaken the world through", he shouted in 1964 after his sensational first World Championship title against Sonny Liston in the microphones. The speaker from Louisville, who took over after the title win to Islam and then called himself Muhammad Ali, was also tactical boxing new standards.
His Symbol against war in Vietnam "Ali Shuffle" or "Float like a butterfly, stitch like a bee" that was the tactics Ali so perfectly mastered. He pranced incredibly lightly and quickly as a paperweight through the ring, blows his enemy with excellent reflexes.
The three-year (boxing) ban was lifted on him in 1967 for refusing military service as an opponents of the Vietnam war affected Ali's boxing art. He was off the World Championship title by the WBA and WBC, after his comeback in 1970, he was not as fast and fleet-footed but his fights were more spectacular than ever before, and he was champion again. What remained in memory is above all duels against his great rival Joe Frazier who dead last November. In the first, Ali conceded on 8 March 1971 in New York's first defeat of his career. The most famous battles
The third went down as the biggest ring battle in the history of the box in the "Thrilla in Manila" Ali and Frazier a merciless match 14 rounds on 1 October 1975 in tropical sweltering heat, before Frazier gave up on order of his coach. "We came to Manila as young champions and as old men," the three-time world champion admitted later.
Ali missed the timing of the departure as so many great boxers before and after him. Ali who was already drawn from disease moving up, he lost 11 December 1981 in a stunning performance against the Canadian Trevor Berbick. As a "Drama in the Bahamas", entered the fight in the history.
Nevertheless Mohammed Ali turns 70... 70YEARS!!!
FRANCIS TAWIAH (Duisburg - Germany)