Guinness commissions a $70,000 WaterHealth Centre for Zenu Ashiaman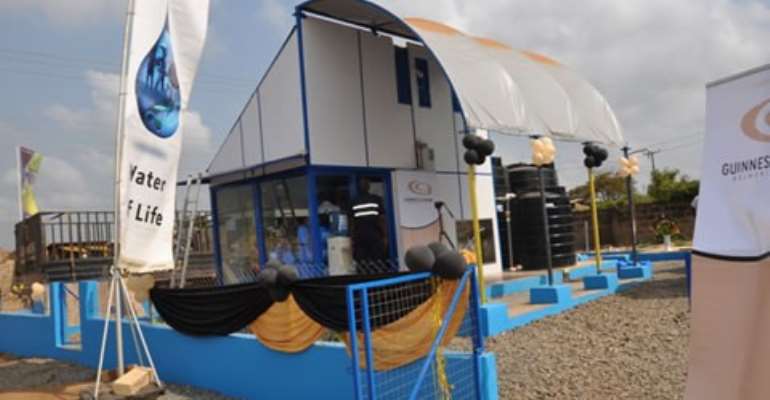 Guinness Ghana Breweries Ltd (GGBL) in collaboration with WaterHealth Ghana Ltd on Tuesday, November 29, 2011, commissioned a WaterHealth Centre – a water treatment plant - for the Zenu Ashiaman community in the Greater Accra Region. The $70,000 state of the art facility, sponsored under GGBL's flagship community investment programme, Water of Life, is the single largest investment the company has made in one water project to date; and it brings affordable clean water for up to 12,000 residents in the community.
WaterHealth Centres house water purification equipment to treat locally available water through a combination of sedimentation, pre-filtration and ultra violet technology.
Each Centre produces World Health Organization quality water that is made available for a nominal usage fee on site, or pumped to additional distribution points depending on the size and density of the community.
Speaking at the commissioning ceremony, Mr. Ekwunife Okoli, Managing Director, GGBL said the company's commitment to supporting vulnerable communities through the Water of Life Programme is fundamental to its way of doing business. "GGBL, as a responsible corporate citizen, recognizes the importance of water to supporting livelihoods and contributing to the realization of the United Nation's Millennium Development Goals. Our passion for empowering communities through access to clean drinking water stems from our commitment to make a meaningful and impactful difference to the communities in which we live and work. We are proud that between July 2010 and June 2011 we have funded a total of 15 new water projects, including this facility, in the Ashanti, Eastern and Greater Accra regions. Through the Water of Life programme, we have, and will continue to impact lives through sustainable access to clean drinking water. This is our commitment; it is what drives us as a business".
GGBL has funded a total of 65 water projects across 9 regions of the country since 2007. In the next few months, GGBL and its parent company Diageo plc, the world's leading premium drinks business, plan to inject more than GHs 1 million, the equivalent of more than $600,000 of investment into the Water of Life programme.
The Water of Life program recognizes that across Ghana, there are different water stress needs that require relevant technology and flexible solutions; and that water projects must be sustainable and owned by the local communities. The GGBL/Diageo portfolio will provide water filters effective for areas in which there is running but unsafe water. Each filter can provide sufficient water for 4 to 7 people for a year before the filter requires replacement. The Water of Life portfolio also invests in boreholes to provide safe ground water to rural communities. In addition, GGBL/Diageo are supporting the piping of safe water to peri urban communities cut off from the national distribution system. For urban communities such as Zenu Ashaiman where rapid urbanization has outstripped key infrastructural services including access to safe drinking water, the Water of Life programme invests in the mechanized WaterHealth Centers to provide affordable access to clean drinking water.
Mr. Okoli committed GGBL funds for an additional WaterHealth Center within Ashaiman in the next year.
The commissioning of the GGBL funded WaterHealth Centre was attended by the Minister of state at the office of the President, the Member of Parliament for Kpone-Akatamanso, Honourable Nii Laryea Afotey Agbo and the Chief of Ashaiman Zenu, Nii Mensah Bediako II, Assembly members and residents of Ashaiman Zenu and employees of GGBL.