November 23, 2011
|
Politics
People Of Kumbungu Laud Prez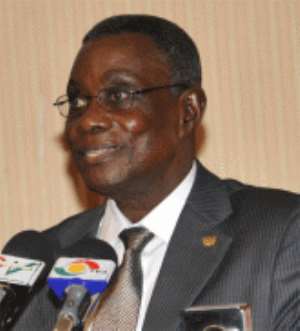 The people of Kumbungu in the Northern Region have lauded the President, Prof. John E. A. Mills, for elevating the Kumbungu Township into a district.
They said they had waited long for such a move, but were gradually losing hope due to the failure of past political administrations to bring it into fruition.
They made this known at a colourful durbar organised by members of the National Democratic Congress (NDC) in Kumbungu to express the party's gratitude to the government for making Kumbungu a district.
The durbar, which was held at the centre of Kumbungu, was largely characterised by traditional dance ranging from 'Damba' to 'Nabiagu' as local drummers and Gonje-beaters dished out tune after tune to keep the event which started in the afternoon to evening.
Speaker after speaker spoke about the need for Kumbungu to see more investments in its infrastructure, particularly in the area of roads, schools and health facilities.
In his remarks, the Member of Parliament for Kumbungu, Alhaji Imoro Yakubu, said Kumbungu deserved to be a district because although it had a large population, it was lagging behind in terms of development.
"Even though, the government is yet to present to Parliament the legislative instrument that will back the creation of the district for approval, we cannot wait to show our happiness and appreciation to the president for this wonderful gift," he said.
He assured the President that the chiefs and people of Kumbungu would work together to sustain peace in the area and also support the government to implement its development programmes in the area.
The District Chief Executive (DCE) for Tolon/Kumbungu, Alhaji Iddi Manzah Mahama, said the separation of Kumbungu from the Tolon/Kumbungu district would help attract more funds for development and projects in both the old and new districts.
"Now Tolon and Kumbungu would get an enhanced share of the national cake and this would empower both districts to aggressively pursue the development challenges facing the two areas," he stated.
Kumbungu is one of the biggest towns in the Tolon/Kumbungu district. It is the seat of the Kumbung-Naa, which is one of the powerful and revered traditional seats in the Dagbon Traditional Area. The current Kumbung-Naa is Naa Iddrisu Abu II, who is a prominent senior citizen.
The new Kumbungu district, which will have Kumbungu as the district capital, would also include towns such as Bontanga, Dalun, Zangbalin, Zugu and Vogu.
The new assembly would have a number of development challenges to address, including fixing the poor road network linking various towns, such as Botanga to Nawuni, Kumbungu to Savelugu and Bontanga to Kasulyili.
Another priority of the new assembly would be to improve the educational standards in the area, by supporting educational institutions such as the Kumbungu Senior High School, which has not received much attention for several years.