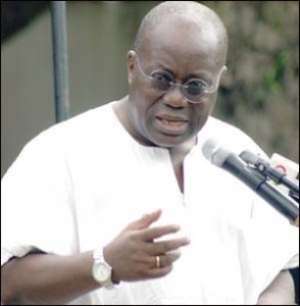 Accra, July 31, GNA - The flag bearer of the New Patriotic Party, Nana Addo Dankwa Akufo-Addo, on Sunday left for Pretoria, South Africa, where he is the main speaker at an International Conference organised by the University Of Pretoria.
The four day conference under the theme: "African Constitutionalism: Present Challenges and Prospects for the Future" will take place between 1st-4th August, and will see Nana Akufo-Addo deliver a paper on: "Outlawing Criminal Libel Laws in Ghana."
Other speakers at the four-day conference include H.E. Jeffrey T. Radebe, Minister of Justice and Constitutional Development of South Africa and Yash Ghai, Emeritus Professor, University of Hong Kong and former Chairperson, Constitution of Kenya Review Commission.
He is accompanied by his Press Secretary, Herbert Krapa and the National Youth Organiser, Anthony Karbo.
GNA