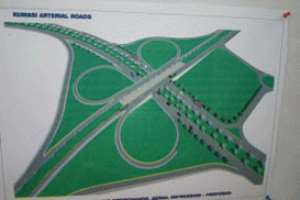 An artist impression of the sofoline interchange in Kumasi
The World Bank has allocated $400 million towards the completion of four major road projects and the general development of the country's transport sector.
The projects are the Tetteh-Quarshie Interchange-Adenta and the Achimota-Ofankor roads in Accra, the Nsawam Bypass and the Sofoline Interchange in Kumasi.
The bank has also earmarked $100 million to support the implementation of the Accra city project designed to give a facelift to the national capital and address its sanitation and water supply challenges.
The package was the outcome of a meeting held between a Ghana government delegation, led by the Vice-President, Mr John Dramani Mahama, and officials of the World Bank in Washington, DC, in the USA.
Other members of the government delegation were a Deputy Minister of Finance and Economic Planning, Mr Seth Terkper; the Deputy Minister of Foreign Affairs, Mr Chris Kpodo, and the Accra Metropolitan Chief Executive, Mr Alfred Vanderpuije.
The Spokesperson for the Vice-President, Mr John Jinapor, told the Daily Graphic in Washington, DC, that in a week's time a team from the World Bank would come to Ghana, "so that they can fine-tune the process".
He said the construction of the four main roads, which the Vice-President described as the 'gang of four', would "open up the country entirely to transport goods and services easily".
He said the four roads had initially been put on Government of Ghana (GOG) funds and indicated that the previous government funded the project with funds from HIPC relief.
However, he said, the HIPC benefit were exhausted, which made the continuous funding of the projects a drain on the government budget.
Mr Jinapor said the Vice-President had made it clear to the World Bank that it would be difficult for the government to fund the projects from its budget.
The decision by the World Bank to support the implementation of the Accra city project was the outcome of a meeting between World Bank officials and Mr Vanderpuije in Washington, DC.