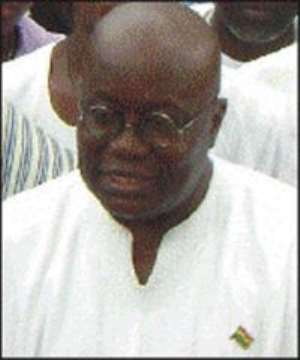 The attention of the New Patriotic Party (NPP) has been drawn to a bizarre allegation made on Monday, 4 th April, 2011 by the Member of Parliament for Yendi, Hon. Baba Iddrissu, against the Flagbearer of our Party.
 
Commenting on the discharge and acquittal of the 15 accused persons in the recent Ya-Na murder case, the NDC MP claimed, without any shred of evidence, that "The court's decision was influenced by people like Akufo-Addo", adding, "I said he went to Yendi and told them that he will come back to Accra and get the guys released."
 
Pushed for evidence, the NDC MP sought to support his allegation by pointing out that the court decision was given on Nana Addo's birthday.
 
Ordinarily, the Party would have thought that the swift denial by Mr. Boakye Agyarko and the subsequent comments from the public ridiculing the MP's false allegation would put the matter to rest. However, pro-NDC newspapers and officially recognised NDC communicators continue to repeat the allegation.
 
We wish to place on record that Nana Akufo-Addo did not say to anybody in Yendi or anywhere else that he would secure the release of the 15 accused persons.
 
Nana Akufo-Addo, as a leader, is not in the habit of promising things that he knows very well that he is not in a position to deliver.   Indeed, the constitution provides that in the performance of its functions, the judiciary is not subject to the directives of any person and Nana Akufo-Addo is well aware of this.
 
Our advice to the ruling party is to spend a bit more time and energy focusing on things that would bring solutions to the Dagbon situation and enhance the prospects of a brighter future for all the people of Dagbon.
 
 
…….signed…….
Nana Akomea
Communications Director