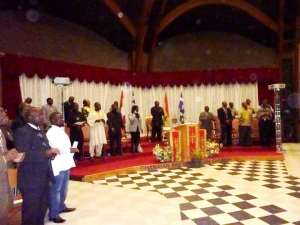 Montreal, QC — A Ghanaian Community Thanksgiving Service was held on Sunday March 13, 2011 at the Ghanaian Presbyterian Church, Montreal, Quebec, as part of activities marking the 54th Independence Anniversary of Ghana. It was sponsored by the Christian Council of Ghanaian Churches of Quebec and the Ghana Canada House, an umbrella organization of Ghanaian Associations in Montreal.
The service begun with a call to worship and an opening prayer led by Pastor (Mrs.) Grace Boakye Agyemang of Grace Baptist Church and Dr. Yaw Perbi. This was followed by songs of praise by choirs of the Ghanaian Presbyterian Church, the Ghanaian Methodist Church and the Church of Pentecost.
Rev. James Quainoo, of the Church of Pentecost and President of the Christian Council of Ghanaian Churches of Quebec elaborated on the purpose of the gathering. He urged Ghanaians to give thanks to God for everything He has done for Ghana for the past 54 years. He encouraged them to pray for wisdom for our leadership to lead the nation towards the realization of the declaration made by the Founder of our Nation, Osagyefo Dr. Kwame Nkrumah that: "Ghana our country is free forever".
Dr. Esi Laryea, a Representative of Ghana Canada House took the first bible reading while Nana Atta Ware, a Representative of the Chiefs took the second reading.
Delivering the sermon, the Head Pastor of the Ghanaian Presbyterian Church of Montreal, Rev. Sowah Ablorh called on Ghanaians to be thankful for the abundant wealth God has given us as a nation instead of being ungrateful. He said Ghana is blessed with so much but the problem facing our nation is mental slavery and challenged Ghanaians to break themselves free from the chains of mental slavery. He hailed the sacrifices made by our Founder, Osagyefo Dr. Kwame Nkrumah and said if everyone could do his or her own bit just as he did, there would be progress for our nation. Rev. Sowah Ablorh called on politicians to be truthful and responsible. He said we need to change our unpatriotic attitudes towards our country and eschew all forms of activities that would hinder the progress of our nation's development.
Elder Isaac Asibou of the Ghana Methodist Church led the thanksgiving session. He called on every Ghanaian to contribute his/her quota towards building a prosperous country. Elder Richard Donkor led the offertory session to raise funds in support of activities for the development of Ghanaian youth in Montreal.
Pastor Emmanuel Ofori of United Church administered the Intercessory Prayer session. Prayers were said for our Ghanaian leaders, African leaders, Church leaders and the entire Ghanaian community at home and abroad. Victims of the Japan earthquake were not left out in his prayers. Mr. Gerald Arhin delivered the anniversary message on behalf of Ghana Canada House. Elder (Mrs.) Anna Phillips concluded this session with the day's announcements.
The closing prayer and benediction was administered by Pastor John Arhin of the Apostles Continuation Church.
The service was well attended by members of the Ghanaian community. Some prominent community members at the service included Dr. Horace Laryea, Chairman of Board of Directors of Ghana Canada House and Rev Samuel King-Kabu of St. Ansgar Lutherian Church, Montreal. Elders William Nketiah and Emmanuel Agyekum were in-charge of proceedings.
The final commemoration of Ghana's 54th Independence Anniversary in Montreal is scheduled for Saturday March 19, 2011 at 12001 Boul. de Salaberry, D.D.O, QC, H9B 2A7 (D.D.O Civic Center) at 7:00 P.M. prompt. All are invited to attend.
Report by Charles Nkansah ([email protected])
Visit http://www.ahemforadio.com/thanksgiving.html to read full report.