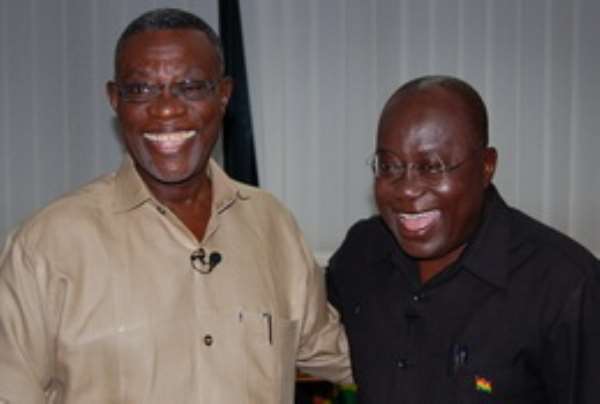 President Mills and Nana Addo
The Chief Executive Officer of the Ghana Free Zones Board and a member of the National Democratic Congress, Kwadwo Twum Boafo, has questioned the right of members of the New Patriotic Party to flaunt any moral compass he thinks they do not have.
After cataloguing a litany of aberrations he says the NPP, while in government, failed to take responsibility for, he said it is highly hypocritical for Ghana's biggest opposition to demand same of the Mills administration.
Kwadwo Twum Boafo who was speaking on Radio Gold's Alhaji and Alhaji programme on Saturday, was reacting to comments by Samuel Abu Jinapor, spokesperson for Nana Akufo-Addo, to the effect that the NDC government was too defensive of criticisms rather them admit responsibility for its failings and fix the challenges. He cited the case of US President Barack Obama who accepted responsibility for his government's dismal showing at mid-term electionsthat saw Democrats lose some 60 seats to cede control of the House of Representatives to the Republicans. The Democrats clung on to the Senate despite losing seats.
But Kwadwo Twum Boafo said when it comes to accepting responsibility, the NPP cannot be the best example: "Abu talked about taking responsibility, that when the democrats lost the election Obama stood up and took responsibility and so we should take responsibility. I don't think that when it comes to taking responsibility for things that have happened, the president of this country, President Mills can be faulted, but talking about taking responsibility and upholding the same standard, did the NPP take responsibility for the reasons why Ghanaians voted them out of power in 2008? Up to today, up to today, has Nana Akufo-Addo acknowledged that he lost an election? Up to today! Has he acknowledged that he lost an election because the government for which he was part showed clear signs of irresponsibility and that is why Ghanaians removed them?
"Have the NPP taken responsibility for a member of parliament, an NPP member of parliament who was sending drugs to the United States and was using that money to fund the party?
"Have the NPP taken responsibility for the three NPP Dzorwulu women who were caught with drugs and somehow or the other, at the time when Nana Akufo-Addo was the Attorney-General, the docket has disappeared? Have they taken responsibility for Sheriff (Asem Dake), a cripple who managed… to board a ship and steal 77 parcels of cocaine, up to today nobody knows where Sheriff is, has the NPP taken responsibility for it?......" he quizzed, and went on to add several other failings he said the NPP failed to acknowledge.
But turning to the "armed robbery and mass rape" story told by Amina Mohammed, Kwadwo Twum Boafo said it is a creation of the NPP who need a pillar to stand on for the 2012 elections but it will prove elusive because "the National Democratic Congress has decided that they are not going to take it lying down any more."
He said the objective of the NPP was to create a sense of insecurity in the country and for which they have a rich history, but that agenda, he promised, with not succeed.
According to Twum Boafo, even on the score of security, Ghanaians will repose more confidence in President Mills than in Nana Akufo-Addo when it comes to choosing between the two.

"Let's just say that we want to ask concrete questions. I have a few concrete questions of my own to ask Ghanaians. As we speak today, if you have money that you wanted to take to the bank and your bank managers were Nana Addo and Atta-Mills, which of the banks will you take your money to knowing what we know now? If you have a pension and you wanted to put that pension safe and there was one insurance agency headed by Atta-Mills and one insurance agency headed by Nana Addo, which of them will you take your pension to? If you have children and you are travelling and you need to leave your children with somebody and the two options were Atta-Mills and Nana Addo, who will you leave your children with?..."
Kwadwo Twum Boafo said the NPP should admit that it had misfired on the issue of Amina and stop talking about her civil rights because no police would give bail to anyone whose surety they were not sure of.
Story by Isaac Yeboah/Myjoyonline.com/Ghana