Obed Asamoah remains mum over NDC issues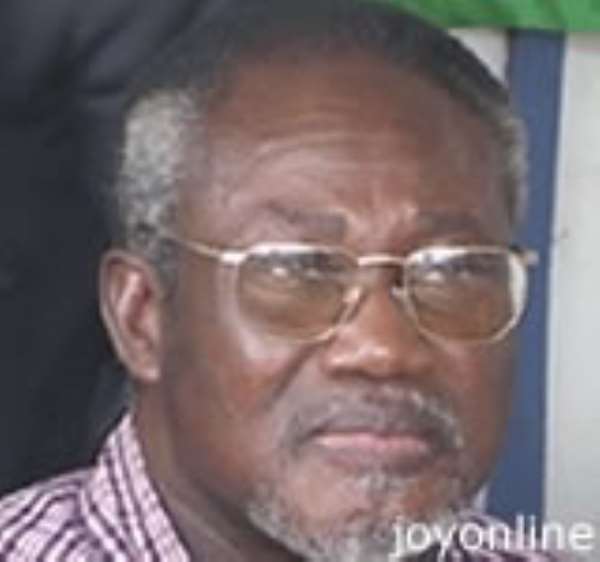 Dr Obed Asamoah, DFP life patron
The life patron of the Democratic Freedom Party (DFP) says he refuses to review the performance of the ruling National Democratic Congress (NDC).
Dr Obed Asamoah, a former big wig of the NDC, cites what he says is "internal wrangling" within the ruling party; "I have deliberately refused to comment on the performance of the government and also to comment on what goes on within the NDC for the simple reason that, in the first place, there is a history of my association with the personalities concerned…People will see whatever you say in terms of what happened in the past…They would not look at things in objective terms," Dr Asamoah said.
"...within the NDC there is a big power struggle going on. It has not ended and I don't want to become a point of reference."
Dr Asamoah, who spoke to Joy News in an exclusive interview Monday, also gave reasons why his own party, the DFP has been missing in action in the country's political scene since the 2008 elections.
The DFP, mainly formed by breakaway members of the NDC, goes to congress in 2011, Dr Asamoah said.
The DFP patron also gave reasons why he believes the party's existence has been a blessing to the country.
"We have occasioned a further awareness of the need for internal democracy in political parties. People may not admit it but obviously their actions today are influenced by what happened in the past and I believe to the extent that we have taken a position of principle we have enriched the democratic life of this country," he indicated.
He said the party may not be enjoying a place in the headlines because of its relatively small size but notes the party remains significant.
"We are not as big a party as the other two so naturally we'll probably not as news worthy as the other two but we believe we are trying to promote certain values; we have certain ideas which we believe are important and it's good for us to continue preaching them," he hinted.
Story by Fiifi Koomson/Myjoyonline.com/Ghana