Somali protest at Kenya arrests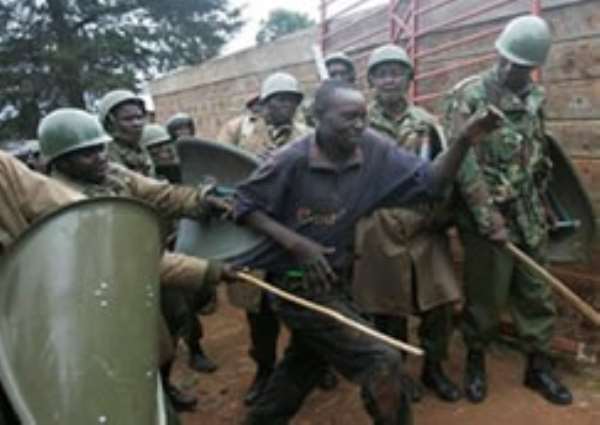 Police shot the protesters with live bullets

Somalia has sent a formal letter of protest to Kenya after 12 MPs and other government officials were arrested by police investigating Friday's riots.
All but one of the MPs have now been freed. About 300 people were picked up in raids on Nairobi's Eastleigh area, where many ethnic Somalis live.
Prominent Kenyan Muslim leader Al-Amin Kimathi was also arrested.
The raids follow violent clashes in Nairobi between police and groups angry at moves to deport a Muslim cleric.
Kenyan Internal Security Minister George Saitoti has accused Somali militant Islamist group al-Shabab of links to the clashes, which left at least one person dead, with several unconfirmed reports of five deaths.
But an al-Shabab spokesman told the BBC they were not involved in the protests.
Somalia's UN-backed government only controls small parcels of territory, mostly within the capital, Mogadishu.
Five-star hotels
Kenya has played host to many rounds of talks aimed at bringing peace to Somalia and many Somali officials are based there because of the lack of law and order at home.
Muslim groups in Kenya have long complained that they are being unfairly targeted by the police, with many Muslims arrested and accused of terrorist offences before being released for lack of evidence.
A spokesperson at the Somali embassy in Kenya's capital Nairobi confirmed that government officials, including former army General Yusuf "Dumal" Hussein, had been arrested.
Chief consular officer Mohamed Osman Aden said some of those arrested were on an official visit and some were in the city for training.
"Their presence was lawful," he told BBC Somali before the MPS were released.
"They presented their passport to the police but they didn't want to know."
He said several officials had been arrested at five-star hotels. They were freed after their papers were found to be in order.
A senior police official who spoke to the AFP news agency had earlier said those arrested were in the country illegally.
"The security operation is part of the investigation going on after Friday's demonstrations by Muslim youths in the city centre," the unnamed officer said.
Mr Kimathi heads the Muslim Human Rights Forum, which helped organised the protest that called for the release of Jamaica-born Abdullah al-Faisal.
Faisal has been jailed in the UK for calling for the murder of Jews and Hindus.
He was arrested on 31 December but Kenya has been unable to deport him because few countries are willing to host him.