August 22, 2009
|
Diaspora Diaspora (Switzerland)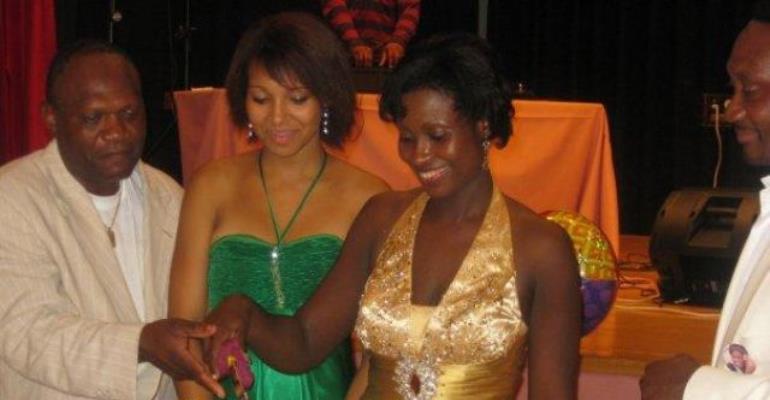 Zurich came to a standstill when Ms Christina Ghansah celebrated her 40th birthday with a touch of class last weekend. Among the VIPs who graced the occasion were Rev. Mr. and Mrs. Thompson
Sakyi of the Charismatic Evangelistic Ministry Zürich, Kwame Darko of Zürich, Sloopy Mike Gyamfi, Mr. Yao Kpdo, Mr. & Mrs. Kwame Twumasi.
Friends and relatives travelled from Ghana, USA Belgium, London, Holland & Germany. The party started with an opening prayer song by Ms Charity Mensah. There were great music and dance performances by
Domenica & Friends (Domenica is Christie`s daughter), Zurich, Nii mantse, Holland, Billy Prosper Todzo from Zürich, The was live band performance led by Sir Roberto Chonia &
Black Earth Band with Ringo Tetteh-Quaye on Guitar, Seidu Shaibu on Drums, Peter Donkor on Percussion, Jenifer C on Vocals.
Food and drinks were in abundance. There was also a lucky dip where guests won special prizes. Guests were also given special souvenir gifts
DSC00240

1

2

3

4

5

6

7

8

9

10

DSC00239

DSC00312

DSC00313

DSC00335

DSC00345

DSC00349
Acknowledgement:
MCs Charles Eshun London & Joe Dadzie
Kitchen- Hanny Gasu & Team
Cake by Jane Arthur- London
DJs - Ofobour & Daniel Nettey
Chief organizer - Jeff Quaye