'Mills still needs time to fix economy'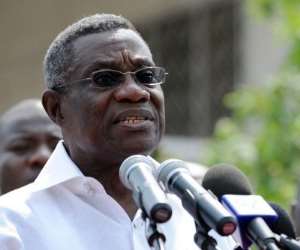 Mr Niikoi Anderson, Greater Accra Regional Chairman of the Democratic Freedom Party (DFP), says the Mills-led administration still needs enough time to enable it put the Ghanaian economy in shape.
He insisted that critics and skeptics of the NDC government should exercise maximum restraint for the government to first of all, remove the bottlenecks facing the economy "to fertile the grounds before much should be expected from them (government)."
Speaking to the Ghanaian Journal in a telephone interview on Tuesday, Mr Anderson was hopeful that the kind of policies being implemented by the NDC administration clearly shows that if the government is given sufficient time most of our problems will be solved"
He continued: "I strongly believe that Ghanaians will be able to properly access the NDC after two years or more. So in my own candid opinion, let all of us irrespective of our political divide wait and see whether they (NDC) will be able to provide all of us the better Ghana we were promised."
Making reference to sports, he said "Even in football the coach and management of a club ought to be given some time to build a formidable team and if possible purchase additional players to augment the squad before things will begin to flourish."
Although the former ardent follower of the NDC questioned the placement of certain individuals in the government, he was quick to add "There are a lot of good players if I should put it in this way (referring to certain good personalities in the government) who can bring brilliant suggestions during difficult times."
Asked about the current state of affairs of the DFP, he added…. "The recent silence of the party on the air waves does not mean that the DFP is dead. What we intend to do is to build the machinery at the grassroots level to enable the party to become a viable force in the next election in 2012."
He indicated that the party's preparedness to contest in the Chereponi by-election stressing, "the party will make an impact in that election.'
Furthermore, he added that the DFP is the only political party that can bring a new sense of hope to Ghanaians, particularly to the youths many of whom are unemployed.
"The current state of Ghana requires the expertise of someone who has seen it all before in terms of providing solutions to solve emergency problems," he retorted, adding the DFP has scores of people who possess such qualities.