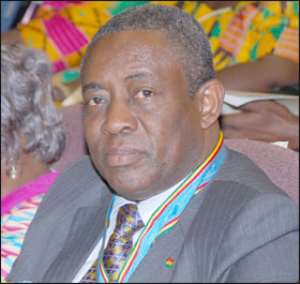 Hon Isaac Osei THE 108 Member of Parliaments (MP) on the ticket of the opposition New Patriotic Party (NPP) have been praised for their outstanding work in the august House so far.   
Hon. Isaac Osei who is also an NPP MP for the Subin Constituency in the Kumasi Metropolis said "he is really touched and impressed about the manner in which the NPP MP's have conducted themselves so far.  
"Indeed the NPP MP's have shown within a short spate of time that they are capable of contributing immensely to the development of their constituencies and for that matter Ghana in general".  
Hon. Osei noted that he was really marveled about the intellectual brilliance and gentlemanliness displayed by the NPP MP's whenever they spoke on the floor of parliament.
"We have proven that indeed it is true when we say the NPP boasts of competent men to take up the mantle of the party at any given time".  
The Subin MP specially ushered praises on young NPP MP's such as Dr. Mathew Opoku Prempeh of Manhyia and Atta Kyia of Akyem Abuakwa as well as the independent candidate for Bekwai, Joe Osei Wusu, for performing above expectation.  
"I have never doubted the caliber and potentials in these three young and brilliant MP's but to be honest with you, they have performed more than I expected them to do," Hon. Osei remarked during a forum at his constituency recently.  
He admonished the entire NPP MP's to keep up their good works, cautioning them against complacency "I pray to God that he continues to give the NPP MP's and all MP's in the country wisdom to perform".  
The historic programme offered Subin residents from the political divide to freely interact with their MP about matters concerning the constituency and Ghana at large.
From I.F. Joe Awuah Jnr., Kumasi