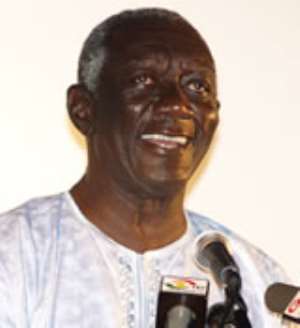 The Asante United Front (ANUF), a pressure group, has asked the Osu Traditional Council and the Ga-Adangbe Youth to retract their threats to eject former President John Agyekum Kufuor from a private office accommodation at Ridge in Accra and to apologize to the nation.
This, it said, was necessary for unity and cohesion in the country.
The Front, in a statement signed by its spokesman, Mr Yaw Boateng, in Kumasi, said it found the open demonstration towards the former President by the two groups as both "unfortunate and unbecoming."
The Constitution of Ghana, the ANUF noted, allowed "citizens to live" wherever they chose within the country, adding, "it is unthinkable for any group of people or an individual to arrogate to himself the power to decide where a fellow citizen should settle and make a living out of the environment."
It warned that if the Osu Chiefs and Ga-Adangbe Youth persisted in their campaign, it could be forced to organize series of demonstrations to bring pressure on Government to return acquired lands by the State in other regions to their lawful owners.
The statement said people should not forget that Accra owed its present status to the hard work of all Ghanaians and, particularly, to the natural resources from other parts of the country outside the national Capital.
GNA