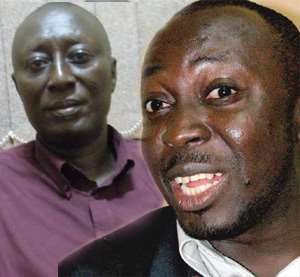 Dr Kofi Asare and Baba Jamal An Appeal Court in Accra has adjourned indefinitely the Akwatia parliamentary electoral dispute case before it, raising concerns among the disputants.
When the case was called on Monday, the Electoral Commission (EC) which took the case to the court was nowhere to be found, apparently because the EC was not informed about the date, leading to the adjournment.
The EC had filed the appeal against a Koforidua High Court ruling on the electoral dispute occasioned by snatching of ballot boxes during the December7, 2008 parliamentary polls which the New Patriotic Party (NPP) was cruising home to victory.   
The Koforidua High Court had dismissed an application by the EC and the New Patriotic Party (NPP) parliamentary for Akwatia, Dr Kofi Asare.  
The application was to nullify a writ filed by the parliamentary candidate of the National Democratic Congress (NDC), Babal Jamal and two independent candidates who are seeking a re-run of the parliamentary elections in the constituency.
The High Court presided over by Justice Surrebarreh threw out an application by the EC and the NPP candidate in its ruling, and awarded a GH¢500 cost against the NPP man.
The NDC candidate, Baba Jamal and two independent candidates, Basil Ahiable and Samuel Abrokwah, jointly filed a writ praying the court to order the EC to conduct fresh parliamentary elections since they believe there were serious electoral irregularities and fraud at most of the polling stations.
However, the EC wanted to conduct elections in only six of the polling stations located at Akwatia where the ballot boxes were snatched by some 'macho men' believed to be supporters of the NDC candidate.
In the course of the trial, Dr. Kofi Asare came in as a second defendant and filed a petition asking the court to dismiss the writ filed by the plaintiffs, citing that the case should have come on a petition.
The judge however dismissed the application and ordered that the writ should go through its normal course.
Giving reasons for his ruling, Justice Surrebarreh said since nobody had been elected at Akwatia to be gazzetted and presented to Parliament, the event could not be an election whose grievances should be addressed through a petition.