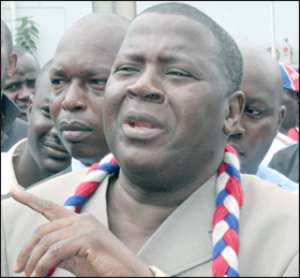 Alhaji Aliu Mahama The National Security apparatus has turned its attention on former Vice President Aliu Mahama as it unleashes its car-seeking operatives on a mission to retrieve vehicles he is thought to have hidden somewhere in East Legon.
Last Saturday, the operatives, some armed, stormed the house of Mr. Aminu Amadu, a businessman who hails from Yendi in the Northern Region.
Although he would not go beyond confirming that some operatives stormed his house, DAILY GUIDE gathered that the visit was unexpected since the man did not hold public office during the erstwhile New Patriotic Party (NPP) administration.
"Yes, some National Security operatives came to my house seeking cars they claimed were hidden by the former Vice President here. I do not have anything more to say about the subject," he said and put off his phone.
DAILY GUIDE however learnt that the uninvited guests stormed the businessman's house announcing that they were searching for the former Vice President's cars.
A source told this paper that when the National Security team arrived, their leader entered the house in the company of a few of his subordinates as others stood guard outside.
The leader told the businessman that they were on a mission to retrieve cars which the former Vice President had hidden in his (Mr. Aminu's) house.
The businessman is said to have ordered one of his children to take the car-seizing squad to inspect the vehicles in his fleet.
When it turned out that there was no government vehicle in the house, one of the operatives asked whether the garage had been looked into. In the garage, the car-seekers found only the wares of the businessman's wife stocked there.
At the end of the exercise, nothing was found and the squad retraced its route, leaving the businessman to wonder what had become of the car-seizing exercise lately.
The car-seizing exercise has not ended as evidenced from developments early last week during which the former Special Assistant to the ex-Chief of Staff, Hon. Ankama who is also the MP for Atiwa had his car seized from a mechanic's shop at Haatso near Legon.
Also  a car said to be driven from the Ridge office of former President Kufuor was trailed to the Achimota motorway.
By A.R. Gomda