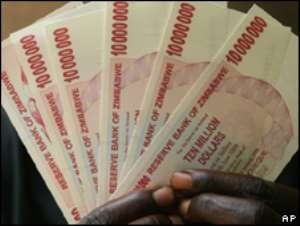 Finance Minister Tendai Biti on Thursday warned that an urgent cash injection from international governments is necessary, to avoid what he has called 'disaster', saying the country could descend into chaos without financial help.
The comments came shortly after the Australian government on Wednesday announced it would provide funding to Zimbabwe's new unity government, becoming the first Western power to announce direct support to the new administration.
The aid boost of more than US$6 million is reportedly being split between the British Department for International Development and the UN's children's fund, UNICEF, and is understood to comprise of more than just humanitarian aid - which until recently was the only focus of Australia's aid to Zimbabwe.
"Australia will provide $10 million (Australian dollars) to help Prime Minister Tsvangirai and the so-called inclusive Government of Zimbabwe to restore basic water, sanitation and health services and relieve the suffering of the Zimbabwean people," Foreign Affairs Minister Stephen Smith said in a statement.
The package is the first from an international donor since the formation of Zimbabwe's unity government, that saw Biti being handed the keys to the country's empty treasury.
Diplomats in Zimbabwe have said other countries will soon follow Australia's lead, starting with Sweden, which is set to announce a multimillion dollar cash injection for the International Red Cross working in Zimbabwe.
Biti has himself welcomed the Australian aid boost, but has argued that aid, diverted through NGOs and charities working on the ground in Zimbabwe, is not enough to hasten the country's recovery.
He said on Friday in an interview with South Africa's Bloomberg news service that Zimbabwe's "political recovery, even political stability, is linked directly to our economic recovery."
"We can't afford to fail with this transitional government because failure spells disaster for Zimbabwe," Biti said. "If we fail, the consequences will be dire, such as a military coup or civil unrest."
Although some observers have said that a military coup, in effect, happened some time ago, when the Joint Operations Command took effective control of the country.
So far channelling financial aid directly to humanitarian groups in Zimbabwe has been the only reliable method of ensuring much need international aid reaches its intended targets.
The Finance Ministry and with it the state's Reserve Bank, have a notorious reputation for diverting aid needed by the desperate many, to line the pockets of the well-connected few.
Biti, as the new Finance Minister has now demanded that he be trusted to take care of the many millions in aid needed to boost the collapsed economy. Observers have argued it is a premature demand with Mugabe still heading the unity government.
Targeted sanctions against the dictator and his cronies are still in place, with the US extending its sanctions for a further year, just last week.
Donor governments have also been reluctant to make financial commitments to strengthen Zimbabwe's government as real, visible change, is clearly needed to convince donors the money will be well spent.
Donor countries are now set to meet in Washington next Friday, and it's understood the focus will be on finding ways to increase aid to Zimbabwe, while circumventing elements in ZANU PF who want to divert the money.
Political analyst Professor John Makumbe argued on Friday that reluctance by donor governments to hand over financial aid was "understandable but unfortunate, because money is desperately needed to transform the country."
Makumbe explained that diverting funds to organisations "working for the benefit of the people in Zimbabwe," was still the safest method of ensuring money is not diverted, saying "there are no guarantees money will be safe with ZANU PF elements still in place in the government."
Makumbe also explained that Biti's warnings of civil unrest are justified, citing the recent unrest among Mugabe's once loyal soldiers over pay, which saw disgruntled soldiers take to the streets, looting and stealing to supplement their meager local currency income.
Makumbe said the MDC needs to deliver on its promises, especially the Prime Minister's vow to pay the civil service in foreign currency, or else face more serious unrest.