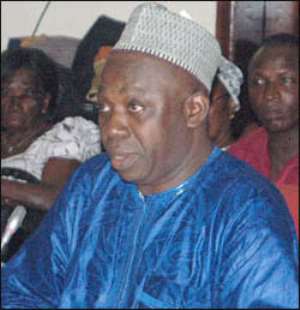 Alhaji Mohammed Mumuni The Alliance for Accountable Governance (AFAG) has petitioned President John Mills, asking him to revoke the appointment of Alhaji Mohamad Mumuni as the Minister for Foreign Affairs.
The petition, signed by the group's secretary, Arnold Boateng, stated that the need for the President to fire Mumuni was because of the adverse findings on him by the final forensic audit report which was conducted at the request of the Auditor General.
"As is the practice, whenever a civil or public servant is indicted by a report of the Auditor-General, that person is interdicted and compelled to step aside; pending the conclusion of investigations into that person's involvement in the specific matters in the subject of the audit report," AFAG noted.
The group said the issue of Alhaji Mumuni has a real likelihood of being an enormous dent on the government's track record of accountability and good governance.
The petition noted: "It cannot be denied that the issues relating to the involvement of the incumbent Minister for Foreign Affairs, Alhaji Muhammad Mumuni, in the disbursement of colossal amounts of state funds in the years 1999/2000, have a huge tendency on undermining the efforts of Your Excellency in building a government which measures up to the yardstick of good governance and also substantially erodes the capacity of the Honourable Foreign Minister to be a creditable chief ambassador of the nation in the eyes of the international community.
"The defamatory findings made against the Honourable Minister are still part of the public record; same have not been set aside by a financial tribunal or court of competent jurisdiction.
In the eyes of the public and international community, the Minister is indicted of the offences he is alleged to have committed by the report of an audit body duly constituted by the Auditor-General of the Republic of Ghana."
AFAG reminded the President that the group had, even before the appointment of Aljahi Mumuni, maintained that he purges himself of the findings of the said damning report but he refused and went ahead to face the Appointments Committee for a vetting session that was enveloped in controversy and drama.
A Daily Guide Report