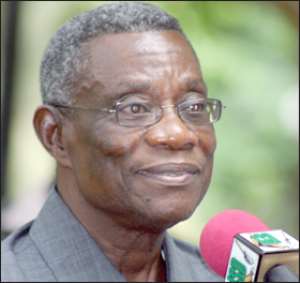 President John Atta Mills Impeccable information reaching DAILY GUIDE has it that there is a mad rush for the position of  Metropolitan Chief Executive (MCE) for the Sekondi-Takoradi Metropolitan Assembly (STMA) as over 10 persons have submitted applications to succeed the out-going MCE, Philip Kwesi Nkrumah.
A source at the Western Regional Office of the National Democratic Congress (NDC) in Sekondi implied to DAILY GUIDE that the applicants included defeated parliamentary candidates of the party in the metropolis during last year's general elections, founding regional party members and businessmen who are NDC activists.
Even though the source declined to mention the names of those rushing in with their applications to become the next Mayor of Sekondi-Takoradi, it pointed out that all of them qualified to handle the post.
When contacted, the Regional Administrative Officer of the NDC, Kojo Bartey confirmed that indeed over 10 NDC activists had applied for the position of STMA Chief Executive.
Mr. Bartey also declined to name the applicants but said the situation had made it difficult for the party to select just one of them since as he put it, "all of them qualify for the post".
He, however, noted that a section of the party's national executives would join their Western Regional counterparts in the metropolis soon after the country's 52nd Independence Anniversary celebrations to vet the applicants thoroughly and present a short list to President Mills to be nominated for the position.   
Some staunch members of the NDC told DAILY GUIDE that people like Dr. John Frank Abu, Regional Chairman; Joe Rex Danny Kobinah, Regional Secretary; Col. Kaku Korsah (rtd), Regional Organiser; and Solomon Nkansah, Regional Youth Organizer; Annor Boateng, a cadre; and Christina Kobinah, defeated parliamentary candidate for the Tarkwa-Nsuaem Constituency who toiled and spent many sleepless nights in villages, hamlets and coves promoting the NDC during the general elections, seemed not to have had their reward yet.
Not wanting to be named, these dyed-in-the-wool activists indicated that the level of suffering these committed colleagues went through should not be swept under the carpet, and that they should at least be offered positions as Board Chair persons of some important government organizations or companies.
According to a woman among the activists, many members of the party in the region would be sad and demoralized if Dr. Abu and his team were left in the lurch regarding appointments by President Mills.
From Emmanuel Opoku, Takoradi