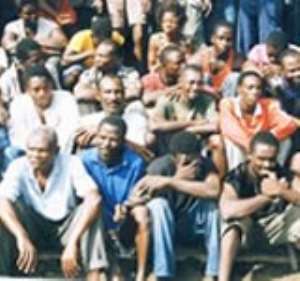 The Rev. Nii Teiko Dagadu, Chairperson for the Dangbe Tongu Presbytery of the Presbyterian Church of Ghana has called on Ghanaians to eschew all behaviours that could retard the development of the country.
He said it was by so doing that the country would move from its current position of developing to the middle income status.
Rev. Dagadu made the call in his sermon to launch the 150th anniversary celebration of the Zimmermann congregation of the Presbyterian Church of Ghana at Odumase Krobo in the Manya Krobo District.
He said God had blessed the country with all the resources, both human and natural and if care was not taken, attitudes of some Ghanaians would not help this country to move in the right direction.
Rev. Dagadu said what the nation needed at the moment was peace and unity which were most important ingredients of national development.
"It is our responsibility as people of God to ensure that this country moves forward for economic prosperity for the current generation and the unborn," he maintained
He urged Ghanaians to see themselves as one people with a common destiny and love each other in fullness.
Rev. Dagadu urged Christians to exhibit the lifestyle of Jesus Christ who is the foundation stone of the Church in order to bring peace to the country in particular and the world at large.
He said it was unfortunate that many years after the introduction of Christianity into the country the devil continued to have influence on many people, hence the high crime rate in all parts of the country and urged Christians to live according to the principles of Jesus Christ.
Rev. Dagadu commended the church for its contribution to the area, ranging from education, community development and agriculture since its establishment.
He called for total collaboration between the church and the state since the two were inseparable when it comes to development.
Rev Sam Odjelua, minister in-charge, on his part said the church would soon undertake a number of rehabilitation works to put up a face-lift to some dilapidated school blocks and also assist the needy but brilliant children to have better education.