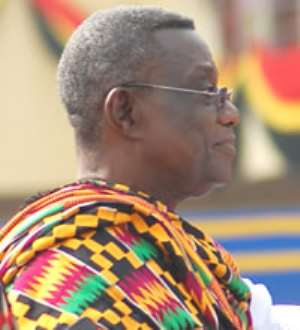 President John Evans Atta Mills on Tuesday urgently appealed to all the sides in the Bawku conflict to lay down their arms immediately.
He has also ordered reinforcement of military and police personnel to the area to protect lives and property and urged all the residents of the municipality and its environs to cooperate with the law enforcement agencies to restore peace, law and order in the area.
A statement signed by Mr Mahama Ayariga, Presidential Spokesperson, said President Mills had also directed Vice President John Dramani Mahama, to visit Bawku immediately to meet with all sides in the conflict with a view to finding an amicable lasting settlement of the issues in the metropolis.
The statement said President Mills had learnt with deep worry the resurgence of violent clashes in the Bawku Municipality and its environs and was very troubled by the consequent loss of lives and destruction of property.
"The President wishes to reiterate his commitment to ensure that every Ghanaian enjoys peace in every part of the country," it said.
Renewed clashes between the Kussasis and Mamprusis in the long running Bawku chieftaincy dispute have claimed two lives.