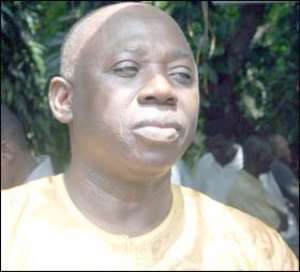 Alhaji Mohammad Mumuni PRESIDENT JOHN Evans Atta Mills is apparently in a dilemma over what to do with his newly appointed Foreign Affairs Minister, Muhammad Mumuni, after an Accra Fast Track High Court ruled last Friday that he actually has a case to answer with regard to causing financial loss to the state.
Alhaji Mumuni was dealt a severe blow when the court ruling he had hoped to use to exonerate himself from adverse findings contained in an audit report on NVTI, an agency under his care as Minister of Employment and Social Welfare, did not go in his favour.
The ruling had further intensified calls on Muhammad Mumuni to honourably resign or be axed from the Mills Administration as a demonstration that the President was taking the issue of corruption seriously.
The President had indicated that he would not tolerate corruption even if the alleged corrupt act was based on media reports.
Media reports suggested that President Mills might wield the big stick against his trusted minister and running mate in his failed 2004 presidential bid.
According to a report by The Ghanaian Journal, "President Mills had a crisis meeting with top members of his government and some party faithful on Friday night during which he made known his intentions on Mumuni. According to our source the President was just following proceedings and might sack him after further consultations."
DAILY GUIDE also gathered that the Minority in Parliament was readying itself to call for the head of the Minister.
Muhammad Mumuni had dragged DAILY GUIDE to court for publishing intriguing revelations from an Auditor General's forensic report that exposed him for having caused financial loss to the state and transferred the taxpayer's money into secret and undisclosed accounts.
The said story indicated that the final forensic audit report had revealed that Muhammad Mumuni, then acting in his capacity as a Cabinet Minister, perpetuated fraud against the State by among other things requesting that the Ministry of Finance transfer an amount of eight billion cedis into a secret account at the Bank of Ghana for use by the National Vocational Training Institute (NVTI) when the total budget estimate the organisation needed for that year was only ¢3.1 billion.
DAILY GUIDE further published that the audit report revealed that Muhammad Mumuni, acting in his capacity as Minister of Employment and Social Welfare, had contravened the Financial Administrative regulations (LI 1134) and contributed to the perpetration of fraud and that he had also facilitated the fraudulent transfer and disbursement of a total of ¢13 billion.
Mumuni, after the publications, dragged the paper to court claiming that he had been defamed, demanding an amount of ¢1 billion as damages.
The court, presided over by Justice A. K. Acquaye, an Appeal Court Judge sitting as an additional High Court Judge, last Friday ruled that indeed Alhaji Mumuni had violated certain important financial regulations and that the findings against him were very serious considering the fact that he could not account for how the monies were used.
The court also held that DAILY GUIDE did nothing wrong in publishing the details of the audit report and awarded a cost of GH¢4, 000 against Muhammad Mumuni.
Alhaji Mumuni had however indicated that he would appeal against the judgement and made it categorically clear that he would not resign his position.
When President Mills nominated Muhammad Mumuni for the ministerial position, Lawyer Godfred Yeboah Dame, who is coincidentally Daily Guide's counsel, led the Alliance for Accountable Governance (AFAG) group to petition the Appointments Committee of Parliament to disqualify him on grounds that the audit findings against him were serious.
The Minority side of the Appointments Committee also strongly argued that the vetting of Muhammad Mumuni should be deferred pending the outcome of the court ruling.
Minority Leader Osei Kyei-Mensah-Bonsu at a point had to lead his side of the Committee to stage a walk-out in protest against the vetting of Mumuni.
By Halifax Ansah-Addo