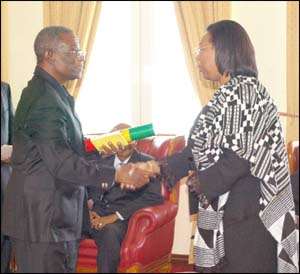 Betty Mould shaking hands with Prez Mills MRS. BETTY Mould-Iddrissu has taken the oaths of office as the Attorney-General and Minister of Justice.
President John Evans Mills administered to her the oaths of Allegiance, Secrecy and Minister of State at a ceremony at the Osu Castle.
Even though she was one of the earliest ministers-designate to be vetted by Parliament Select Committee, Mrs. Mould-Iddrissu had to travel to the Commonwealth Secretariat in the UK to formally resign her post as Chief Legal Advisor of the Commonwealth Legal and Constitutional Affairs Division.
President Mills expressed confidence in the Minister and reminded her of the desire of Ghanaians for government to improve upon the justice delivery system to ensure equal rights for all, irrespective of one's social status or political leaning.
The president expressed regret at the expensive nature of the country's justice delivery system, which often could not be accessed by the majority of Ghanaians who fall within the low level income group.
He therefore charged the Minister to work hard to ensure that the government achieves its promises to Ghanaians in improving the legal systems in all sectors of the economy.
For his part, the Chief of Staff, John Henry Martey-Newman, congratulated Mrs. Iddrissu for her achievement and asked the new minister to bring her vast law experience to bear on the legal sector.
He also urged her to create an effective and productive linkage between the Executive, Legislature and Judiciary.
Mrs. Mould-Iddrissu thanked the President for the opportunity to serve in his administration and gave the assurance that she would give off her best.
She was later presented her instrument of office and a copy of the 1992 Constitution to serve as her guide.