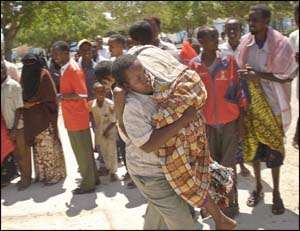 A boy, among more than 60 people wounded At least 15 people were killed and more than 60 were wounded in Somalia's capital on Tuesday, in multisided fighting between pro-government forces, African Union peacekeepers and Islamist insurgents, witnesses said.
The fighting, the heaviest of its kind since Ethiopian troops withdrew from Somalia last month, started around 10 a.m., when armed insurgents attacked government bases. Both sides then opened up with mortars and machine guns, and several stray mortar rounds slammed into nearby homes.
Witnesses described a scene of panic and pools of blood when a mortar shell struck a crowded area that civilians were using as a haven in the southern part of the city. "I saw six dead bodies and 15 wounded," said Hussein Abdulkadir, a 25-year-old chemist. "I was really shocked."
A woman and her baby were killed and six other people were wounded after a mortar shell landed in another neighborhood to the city's north, witnesses said.
"The casualties could increase anytime, but the hospital is overcrowded now," said Dahir Mohamoud, the deputy director of Madina Hospital in Mogadishu.
The fighting comes a day after Somalia's new president, Sheik Sharif Sheik Ahmed, arrived in the bullet-pocked capital along with some ministers in his new cabinet. Several of the mortar rounds landed at the presidential palace on Tuesday, where the president was staying, but no casualty figures were released.
On Sunday, 11 African Union peacekeepers were killed in Mogadishu after suicide bombers attacked a Burundian peacekeeping base at a former university compound. The Shabab, an Islamist militant group considered by the American government to be a terrorist organization, claimed responsibility for the attack. The group also vowed on Monday to keep attacking the peacekeepers until they withdrew.