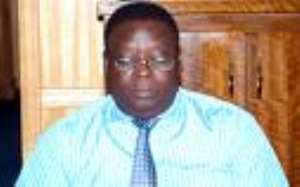 Minister-designate for the Upper East, Mark Wayongo, being drilled by the Appointments Committee of Parliament
A tale of inconsistencies and persistent fumbling characterised the vetting of the minister-designate for the Upper East, Mark Wayongo.
The nominee after denying that he appeared before a committee of inquiry set up by the Ghana Broadcasting Corporation to investigate his alleged smuggling of radio station equipment into the country admitted later during the vetting that "Mr Chairman, I now remember."
The Appointments Committee had to suspend Mr Wayongo's vetting to a later date for the nominee to get his facts right.
"Do you remember the minister for communications at the time?" was the question.
"I think it was Honourable John Mahama [Veep]," he responded.
"It couldn't have been 2001 then."
"I think there was a mix-up there but it must be 2001 or 2002," he said.
The chairman of the committee, Doe-Adjaho, then sounded a word of caution to the nominee to be specific with his answers.
"When you are not too sure of an answer, if you don't know, say you don't know," the chairman bawled.
The Minority Leader, Osei Kyei Mensah-Bonsu, continued his drills on the nominee, revealing more flaws.
"[Are you] aware that a committee of inquiry was set up on this," Mr Mensah-Bonsu asked.
"I am not aware, because they reported the matter to National Security. National Security invited me, they questioned me on this. From there I went to BNI. I didn't have any direct dealings with GBC," the nominee responded.
"Mr Wayongo, on the basis of these machines a committee was set to investigate and you were invited on the issue at stake to respond to the issues at stake. True or false?"
But after Mr Doe-Adjaho has repeated the question to him, Mr Wayongo admitted, "Mr Chairman I now recollect that I met a group at the GBC."
Committee members were also dissatisfied with the responses he Mr Wayongo gave regarding his voter registration.
The suspension of Mr Wayongo's vetting means he would appear on Friday 20th February 2009.
Story by Fiifi Koomson