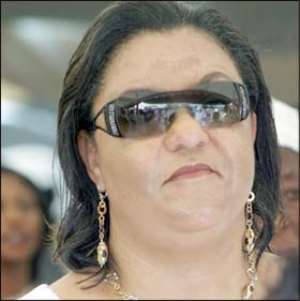 Ms Hannah Tetteh TWO MINISTERS nominated by President John Evans Atta Mills to handle two key positions in the Ghanaian economy blazed through the vetting process yesterday with ease.
Even before fielding questions from the various members of the Appointment Committee of Parliament, Ms Hannah Tetteh, Minister-designate for Trade and Industry, who spoke with precision and appeared to be on top of most trade issues -both internally and externally, was commended by two members of the opposition New Patriotic Party (NPP).
While K.T. Hammond, Member of Parliament for Adansi Asokwa congratulated her on her nomination by President John Evans Atta-Mills, saying she would be a good minister, Samuel Atta-Akyea, MP for Abuakwa South commended Ms Tetteh, a mate at the Ghana School of Law, for showcasing competency throughout the vetting and subsequently advised her to show humility as a minister.
Going through the process in about an hour and a half, Ms Tetteh shared some positive gains chalked by the previous government and added that she would study and review others that had not helped to improve the economy.
"The private sector as at the moment is not so strong because of the large informal sector. My focus is to help grow the micro and medium scale enterprises into large entities."
Answering a question posed by Hackman Owusu Agyemang, MP for New Juabeng North, on how to continue with the President's Special Initiatives (PSI) started by former President John Agyekum Kufuor, Ms Tetteh said she would review the viability of the PSIs so as to restructure them to achieve results.
On other issues, Ms Tetteh noted that she would revamp the dwindling textile industry, adopt professional approach towards promoting investor confidence, and focus on regional trade.
"We import more than we export, thus affecting our balance of trade payment, hence the most important aspect is to look at production capacity of local firms and not necessarily cutting a limit for imports".   
On the controversial issue where the group, Alliance for Accountable Governance (AFAG) alleged that Ms Tetteh flouted the rules of Parliament by serving as legal adviser to the Ghana Agro Food Company (GAFCO) while she was MP for Awutu-Senya between 2001 and 2005, Ms Tetteh defended herself well. She opined that the group's petition was without merit "because the records show that during the meetings of the Third Republic, I was absent from Parliament for only four days."
A native of Kumawu in the Ashanti region, Dr. Kwabena Duffuor on his part said his ambition was to assist the country attain both micro and macroeconomic stability before embarking upon developmental programmes enshrined in the Constitution of the new government.
"By next year, we should be able to achieve a fiscal deficit of six percent and in subsequent years reduce it further".
On the issue of high interest charges on lending rates posed by Mr. Owusu Agyemang, Dr. Duffuor intimated that he would encourage savings among Ghanaians since the savings rate was low, due to low investments among Ghanaians.
With regard to the free fall of the cedi against the dollar during his tenure as the Central Bank Governor from 1997 to 2001, the Finance Minister-designate submitted that several external factors such as low prices of cocoa and gold affected the cedi, forcing it to depreciate rapidly.
However, he emphasized that before he left office as Governor, the cedi had achieved stability against the dollar. "I left the Central Bank in September 2001 with first class record".
On the issue of conflict of interest regarding his position as chairman of the board of Unibank and Star Assurance, he disclosed that he was ready to declare his assets as required by the Constitution.
By Charles Nixon Yeboah