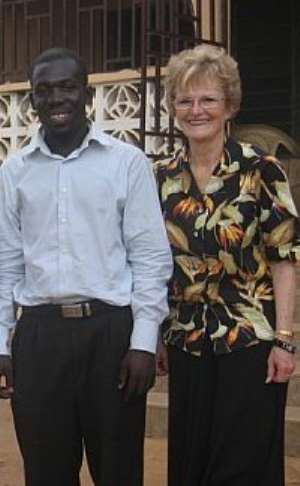 George Sarfo in pose with the Chair of Entrepreneur at the Seattle University Professor Harriet Stephenson
Mackinac Center for Public Policy Honors SIFE-IPS's George Sarfo Dwomoh for Influence in Ghana.
Mackinac
The Mackinac Center for Public Policy, a prestigious policy-studies institute based in Midland, Michigan whose works have influenced numerous policies on education, health and politics both in Michigan and around the globe, has welcomed SWA Advocate George Sarfo Dwomoh of Ghana as an honored attendee and speaker at their 24th biannual leadership conference. Mr. Dwomoh was honored by the Mackinac Center for Public Policy for his work in transforming policies on education, health and politics, especially in Ghana. As part of his invitation, Mr. Dwomoh will be hosted by the Students for Liberty at the Michigan State University, where he will be delivering a presentation on Student Leadership.
Kendra L. Shrode, assistant to the President of the Mackinac Center for Public Policy, commented that the world has reached a fundamental turning point and that youth involvement in global issues is essential to our future. Speaking about Mr. Dwomoh's invitation, Ms. Shrode said, ''We have long anticipated his involvement with one of our conferences. His experience will be a valuable addition."
George Sarfo Dwomoh is a committed advocate for liberty, free market principles, and youth improvement policies. Mr. Dwomoh is heavily involved with community outreach projects and is passionate about empowering young people. He has attended many seminars and conferences in the West African sub-region, and made significant contributions to the 2007 European Union -African Union consultation meetings and the United Nations Conference on Trade and Development (UNTAD XII). His work has transformed many microfinance NGO's in the Greater Accra region.
Responding to his selection as an honored speaker, Mr. Dwomoh said, ''I am proud that the activities of the youth have been recognized by the world acclaimed Policy Institute and am glad to share this panel with such great thinkers ''