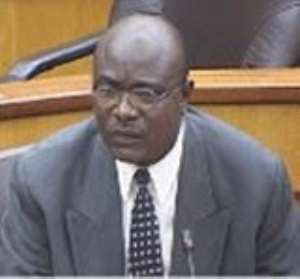 Minister designate for Interior, Cletus Avoka has given the assurance that he would work diligently to ensure lasting peace in Bawku if given the nod as Interior minister.
The neutrality of Mr. Avoka has been questioned by some youth groups who claim the minister designate has been involved deeply in the protracted conflict between the Mamprusi and Kusasi.
The group sent a petition to the parliamentary appointments committee requesting the disqualification of Mr. Avoka.
But the Minister designate said during his vetting that his disqualification will set a bad precedence for the country and urged the members to consider the larger interest of the country.
Referring to the petition as unfortunate, Mr. Avoka argued forcefully his major preoccupation would be to build bridges between the two ethnic groups.
Having served as Upper East Regional Minister under the Rawlings-led administration Mr. Avoka noted his reign was devoid of conflict and pledged to replicate similar feat when given the nod.
On his part, Minister designate for education Alex Tettey-Enyo reiterated his call for the reversal to the three year Senior High School education.
The four year duration implemented by the erstwhile Kufuor regime has been shrouded in controversy, with the then opposition NDC pledging to review it once it won power.
As expected, the controversy was re-ignited with the minority members of the committee questioning the prudence of the proposal.
The minister designate hinted a consultative forum on the issue would be organized before a final decision would be taken.
But the vetting process has not been without controversies.
The show of power and tenacity by the deputy speaker of parliament and chairman of the parliamentary appointments committee, Doe Adjaho did not go unnoticed, as he overruled some questions, mostly from the minority.
Akua Sena Dansua, MP designate for Women and Children's Affair, Joseph Yieleh Chireh, Minister designate for Local government and Rural Development, as well as Mrs Juliana Azumah-Mensah all took their turn at the vetting on Friday.
The committee will sit tomorrow to vet another batch of nominees.
They are Alhaji Muhammed Mumuni for Foreign Affairs and Regional Integration, Hon. Joe Gidisu for Roads and Highways, Dr. Oteng Agyei for Energy, Ms Shirley Ayitey Environment, Science and Technology and Collins Dauda, Lands and Natural Resources.
Story by Nathan Gadugah