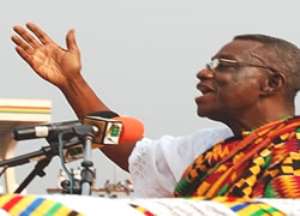 President John Atta Mills Friday joined Muslims in a national thanksgiving prayer to Allah for Ghana's peaceful election and transition of power and renewed his promise to make the development of deprived areas a top priority.

He stressed peace as a catalyst to national development and urged Ghanaians to let religion be a unifying factor as the nation strives for progress and better lives for the people.

Addressing a crowd of congregants on the grounds of the Abossey Okai Central Mosque in Accra, President Atta Mills said the development of deprived areas was in line with the tenet of equality and called for the support of Ghanaians, as one people with a common destiny to give of their best.

The prayer gathering, which was at the instance of the President, was on the theme; "Holding on Fast to the Rope of Allah as One People."
The President said: "Our main pre-occupation is to make sure we create equal opportunities for Ghanaians,"

He entreated Ghanaians to "constantly seek the face of Allah in the face of difficulties," for God to make nation of Ghana greater and strong.

"I'm here today in this moment of victory to give praise and thanks to Allah. We thank Allah for his bountiful blessings. As usual Allah gave us more than we asked for," President Atta Mills said.

He also thanked the Muslim community, the media, his competitors at the last elections, the Council of Churches, the Electoral Commission and the Security Services for their role in the success of the elections.