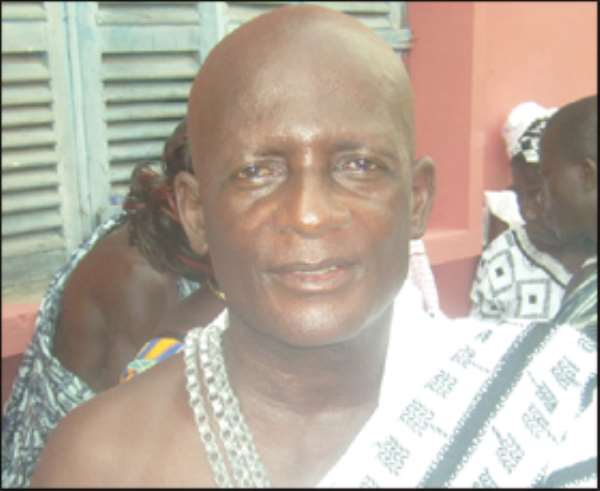 Nana Eduku Kanra III THE NEWLY-installed Chief of Kikam in the Ellembelle district of the Western Region, Nana Eduku Kanra III, has indicated that he would help propel the development of the town by working closely with government officials, philanthropists and the district assembly.
He has also intimated that education, health and social services would be his key priorities while ensuring that he promotes communal labour and sanitation.
Speaking to newsmen after being officially outdoored as Chief of Kikam at the weekend, Nana Kanra, who is a tutor at the Esiama Secondary Technical School, noted that the town would see rapid development if both residents and non-residents contribute their quota in kind and cash towards projects envisaged by the Town Development Committee.
According to the new Chief who is known in private life as Eric Ewereko, his maiden move would be to ensure that students and pupils in the town confined themselves to their books by placing an immediate ban on the operations of all video centres.
"We want the future of the young ones to be bright and we can only do so through the promotion of higher education, so parents who shirk their responsibilities concerning their children's education will also be ruthlessly dealt with," he stressed.
He mentioned that the community had already arranged with management of the Kikam Technical Institute to train the unemployed youth in carpentry, mechanics, welding and masonry, with a call on the youth to take advantage of the facility.
He called on the Ellembelle District Assembly to expedite action on the town's water project since the absence of good drinking water could let the people contract water-borne diseases.
Nana Nwea Ambonza, the Chief of A.B. Bokazo who represented the Paramount Chief of the Eastern Nzema Traditional Council, advised the new chief to stay away from pride, embezzlement of public funds and injustice so that his subjects would have trust and confidence in his administration.
He also called on the people to cooperate with the new chief, and asked the council of elders to help the chief execute development projects using proceeds from the town's coconut plantation to enhance the living standards of the people.
Nana Eduku Kanra III succeeded his late uncle, Nana Kerma Bertu III, who passed away last year after reigning for almost 40 years as chief of Kikam.
From Sam Mark Essien, Kikam