NPP holds thank-you-rally in Accra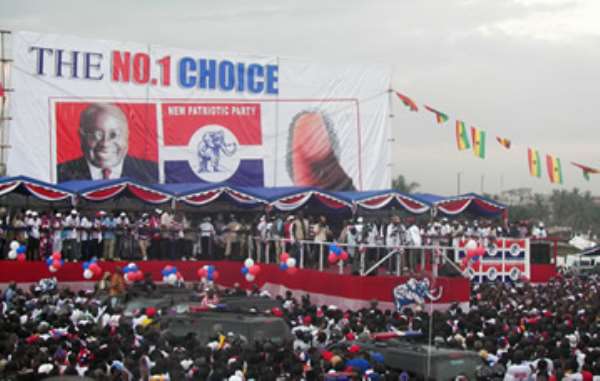 The defeated New Patriotic Party in the December elections have ignited the streets of Abeka Lapaz, a suburb of Accra, with a thunderous mammoth rally.
The rally is to thank the numerous followers of the party for their unflinching support in the December elections.
Joy Correspondent David Young says the streets leading to the venue of the rally have been choked with human and vehicular traffic.
He said the "euphoria at the venue is amazing" not typical of a party defeated in a keenly contested elections.
Party paraphernalia, according to him, is on high demand as supporters gleefully brand their cars, arms and bodies with the blue and white colours of the NPP.
Party bigwigs are yet to arrive at the venue as at 12:00 noon.
But General Secretary Nana Ohene Ntow told Joy News in an earlier interview that the rally will be addressed by Presidential Candidate Nana Akufo-Addo and other party bigwigs.
He said similar thank-you-rallies have been already been held in several regions of the country, and the final will be held in the Eastern Region.
Story by Nathan Gadugah