Kufuor did well, generally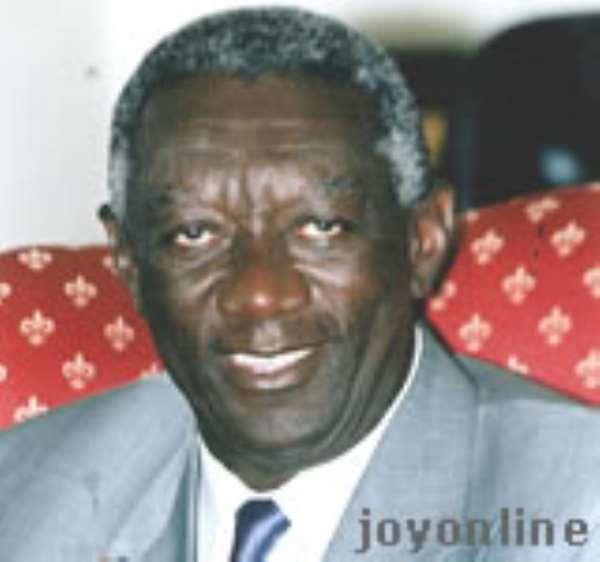 After eight years as the President of Ghana, some political analysts have given the thumbs-up to Mr J.A. Kufuor for his overall style of leadership; but they have also been critical of some of his shortfalls.
For Dr. Amos Anyimadu, Political Scientist and Security Analyst, his abiding memory of former President Kufuor would be his tagline "Gentle Giant"; a person who was in-tune with his people and a leader who respected and observed tradition.
"I think he left power with a quite high rating," he said of Mr. Kufuor after taking into consideration some of his enviable achievements in comparison with his peers across the globe.
He was speaking on Joy FM's current affairs programme, Front Page, hosted by veteran journalist Kweku Sekyi-Addo on Friday.
Dr. Anyimadu believed if the New Patriotic Party had centred its campaign on Kufuor's legacy and how the nation perceived him to be, they wouldn't have ceded power to the National Democratic Congress.
"The campaign should have run more strongly on Nana Nie, Kufuor Nie other than Nana and elephant," he said.
Asked if former President Kufuor fulfilled his mission, he shot back emphatically "No!"
"I do not think any Ghanaian president can fulfill his mission," he said, explaining "because we are a very poor nation, the instruments for control are very poor."
"I will be surprised if President Mills fulfills his mission as has officially been stated".
He cautioned; "We have to deconstruct what the politicians say and what they can realistically achieve."
Speaking on the same programme, Alex Segbefia, Secretary to the ruling party's transition team, said it would be difficult to tell Mr. Kufuor's achievements until the transition is over and due assessment is done on what he left over.
"It is important for us to see what has been left behind; this is what the transition team is all about. We are going to look at what the state of Ghana is. We were told our economy has grown four times during the campaign, it is important for us to go and investigate that and see where we really are and then you can judge President Kufuor's tenure in terms of where we have gone."
He faulted Kufuor's administration for not doing enough to depolarize the nation of tribal tension, which he claimed was high at the time of leaving office.
He said; "I think it got worse" during his eight years period.
According to Mr Kwesi Afriyie Badu, CEO of KAB Governance Consult, former President Kufuor generally did well in a number of areas.
"I think I will personally remember President Kufuor for working to deepen democracy in this dear country of ours."
The parameters for the above assertion were of the fact that during his administration, freedom of expression was taken to a different level. This, he intimated, "took Ghana to a greater height".
He also praised Kufuor on his political tolerance, good neighbourliness and management of Ghana's economy especially in the wake of the global financial crunch, and financing the electoral process which further deepened the democratic process.
On his weakness, Afriyie Badu said; "President Kufuor took loyalty to an extent that it became both a strength and a weakness".
On the issue of perceived corruption, he noted: "Sometimes I felt there were clear evidence that if he really wanted to demonstrate that he believes in zero tolerance for corruption he could have made the move."
To buttress his point, he cited two intelligence reports indicting two DCEs, but, he said, nothing was done about them.
He was also not the least enthused about some of Kufuor's utterances and political statements. "I don't know whether he was very sincere or it was politics," he questioned.
He said, for instance, when the former president was in opposition, he was ardent about the need for the state to support political parties. The same sentiment, he noted, was expressed during his tenure as the president, but in all, he failed to use his position to ensure that a law of its sort was passed.
Mr Afriyie Badu also blamed his communicators for making him unpopular with respect to certain policies in which they poorly disseminated government information to the populace.
Story by Isaac Essel