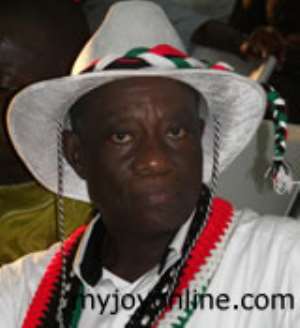 The needs of every Ghanaian and not that of only a privileged few would be catered for under a Professor John Evans Atta Mills' presidency, which will begin on 7th January 2009.
"My government will not allow a situation where a few become filthy rich while the majority wallow in poverty to persist," Professor John Evans Atta Mills, Presidential Candidate of National Democratic Congress (NDC), told an Eastern Regional Rally held at the Koforidua Jackson Park on Saturday.
Prof. Mills pledged to offer Ghanaians honest and fair government to all when elected President of the country.
He promised Ghanaians, who were disappointed and saddened by the poor performance of the present Government, of better time ahead and called on such people to support the change for a better Ghana slogan by voting for the NDC.
Prof. Mills promised to improve upon the National Youth Employment Programme to help to create employment, promote better health care and offer better quality education.
He urged Ghanaians to question the New Patriotic Party (NPP) why they did not introduce some of those things they were now promising during the past eight years that their government had been in power.
Prof Mills, who had a hectic time getting to the rally grounds as the milling crowd surged forward to catch a glimpse of him, appealed to members of the security services, who would be voting soon, to vote for the NDC, and pledged that his government would provide their needs to enable them to offer their best to the country.
Advertisement
Dr Ekow Spio-Gabrah, Former Minister of Education in the NDC Government, said NPP Government found it wise to establish special courts to try and jail drivers but did not find it wise to establish special courts for armed robbers and cocaine dealers.
He criticised the NPP for selling Government bungalows and almost every asset belonging to the State and warned the electorate that if they made a mistake to vote for the NPP, after selling all the assets of the country they would start to sell the people.
The General Secretary of NDC, Mr Johnson Asiedu Nketia observed that the change in Ghana has already occurred but what was needed was for the members of the NDC to work hard to actualise the change on the voting day. He told workers of the country that when elected into power, the government of NDC would not only improve upon their service conditions but would also guarantee their right to speak their mind on important national issues.