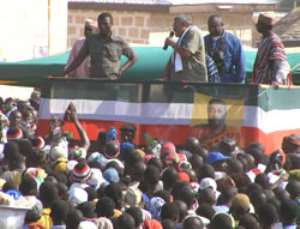 Former President Rawlings has called on supporters of the National Democratic Congress to be vigilant during next weekend's Presidential and Parliamentary elections.
Addressing a mammoth rally at Tamale on Monday, President Rawlings said the whole country was anxious of the explosion of joy that will greet an NDC victory but said a lot of hard work has to go into that forthcoming victory.
A press release signed by an aide to the ex-president, Kofi Adams quoted Rawlings as saying: "I do not trust the NPP to manage this election in a free and fair manner and we need to be steadfast in order to clinch victory," he cautioned.
The former President lamented that the NPP administration under President Kufuor had slowed down the pace of rural development.
"Had the NDC stayed in power in 2000 the level of development would have made Ghana a paradise looking at the pace at which we were moving," he stated.