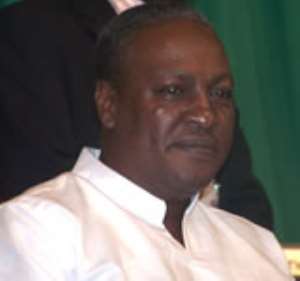 The National Democratic Congress (NDC) said on Tuesday that its long-term objective on job creation was to promote and create productive employment opportunities in all sectors of the economy for able-bodied Ghanaians who are willing to work.
In the short-term, it said, it would revisit some of its previous employment strategies such as "Poverty Alleviation" and "Youth-in-Agriculture" programmes as well as current programmes such as the National Youth Employment Programme (NYEP) with a view to enhancing their viability as employment options.
This was stated by the vice presidential candidate Mr John Dramani Mahama during an interaction with the Civil Servants' Association of Ghana and other labour unions in Accra.
Mr Mahama said special support, in the form of capital and technical assistance, would be provided for mechanics, electricians, drivers, hairdressers, dressmakers, masons, plumbers, carpenters and other tradesmen and women who have the potential to operate small and profitable businesses.
He said in collaboration with other stakeholders, an NDC-led government shall design programmes to address the massive graduate unemployment currently plaguing our nation.
Mr Mahama said the desire to achieve accelerated growth and development towards a middle-income status for Ghana demanded commitment and competence from the civil service, government machinery and the public services in general.
This was because they were "the pillars of economic development that drive the private sector, the engine of growth".
"I want to make it known, ladies and gentlemen, that an NDC Government will simplify Ghana's public services to deliver more effective government whose core purpose will be creating a more successful country by increasing sustainable economic growth.
"We want a simple and an effective public sector – one that is focused, less bureaucratic, easily approachable and results oriented to help facilitate growth in the economy. "
Mr Mahama said for this reason, an NDC-led government shall make a firm commitment to take the necessary steps to upgrade the capacity of public sector workers, treat and reward them as equal partners in national development to enable them meet the new challenge.
"We shall also aim to achieve fewer national public organizations with less duplication and less bureaucracy. We shall have to streamline decision-making and increase transparency, discontinue public service activity that no longer contributes to the public purpose and merge public service organizations that utilize similar skills, processes and expertise in the delivery of their mandate."
Mr Mahama said the NDC would give real meaning to the decentralization programme by devolving power and tasks to the organs of local administration.
"Central government's relationship with local government under an NDC government shall emphasise a more effective monitoring, less bureaucracy and better public service delivery."
The NDC identified several challenges facing organised labour, which include unbridled privatization and globalization with the attendant downsizing and redeployments creating hardship to workers; high levels of unemployment and under-employment; chronically low wages and growing income inequality; and income poverty, gross deprivation and social exclusion.
Others are dwindling union membership resulting in resource constraints for union organization; pluralism in labour organization making it difficult for labour centres to hold their affiliates together; and over-concentration on achieving macro-economic targets at the expense of job creation and social inclusion.
He said in the light of these and other challenges, an NDC government led by Prof. John Evans Atta Mills would bear a heavy responsibility in the social field, most importantly to safeguard fundamental human rights of workers, and in particular ensure respect of the minimum age for admission to employment and abolition of forced labour.
It would also ensure freedom of association; freedom of expression; the right to collective bargaining; promotion of non-discrimination and democracy at the workplace; the right to a decent wage and the right to work in a safe and healthy environment.
Mr Mahama said labour administration in the new NDC government will be a tool for the achievement of these fundamental objectives, to enforce labour standards and to offer solutions to the various complex problems and challenges that confront the world of work.
He said an NDC government would establish and maintain an open-door policy for a harmonious working relationship with existing national labour centres and labour unions and workers' organizations to ensure a stable industrial peace and high labour productivity.
Mr. Mahama said it was unacceptable and unjustifiable for any worker to be locked out of opportunity, adding opportunity and social justice should not depend on class or connections, birth, background, where you come from or who you know.
"Opportunity and social justice should be the promise of Ghana, not just to some but to everyone – and that is what a new NDC Government shall offer," he said.