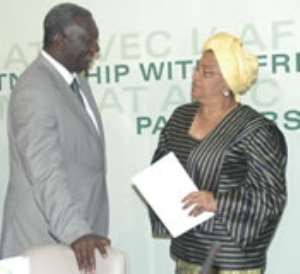 Liberia on Saturday honoured President John Agyekum Kufuor with the country's highest national award in appreciation of his tremendous contribution in restoring peace and support for post-war reconstruction of that country.
President Ellen Johnson Sirleaf of Liberia decorated President Kufuor with the insignia of the "Distinction of the Grand Cordon in the Most Venerable Order of the Knighthood of the Pioneers of the Republic of Liberia", at a high profile ceremony, held at the C. Cecil Dennis Junior Auditorium of the Foreign Affairs Ministry in Monrovia.
Among those present at the event, were Liberian Vice President Joseph Boakai, the Speaker of Parliament, the Chief Justice, Ministers of State, Parliamentarians, members of political parties, representatives of international organisations and traditional rulers. President Kufuor was acknowledged in a citation, as an illustrious and distinguished African, who has demonstrated strong leadership, statesmanship and care for fellow humans.
He was in Monrovia on a two-day official state visit at the invitation of the Liberian Government to reinforce Ghana-Liberia ties and co-operation.
Additionally, President Kufuor received conferral of Honorary Doctorate Degree in Humane Letters (L.HD) (Honoris Causa) in International Relations at a Special Convocation by the University of Liberia, and he was installed as a traditional ruler by Paramount Chiefs from all the 15 Counties of the country.
President Sirleaf who was emotionally touched by the event said Ghana has shown true African solidarity and friendship and was active in anywhere Liberia was in her quest for peace during its difficult times. She said Ghana provided safe haven for about 40,000 Liberians, who fled the civil war and has been helping to reconstruct the country's damaged infrastructure.
President Sirleaf said through the technical support of the Volta River Authority (VRA), Monrovia, which had been in darkness for almost 15 years, has electricity restored to some parts of the city. She said besides, under on-going partnership, Ghana is assisting to restructure Liberia's Armed Forces, Immigration Service and the training of its police.
President Sirleaf said "You have carved for yourself special place in the hearts of Liberians. You are deserving of this honour because you merited it. We are proud of you as a leader and democrat." She appealed to all African leaders to apply the tenets of respect for the rule of law and good governance in order to help avert bloody political conflicts.
President Kufuor counseled the nation to stay the course of progress through reconciliation and solidarity. He said he was impressed with the concrete signs of economic revival and social transformation and asked Liberians never to relapse into complacency but persevere against all odds in rebuilding their country.
"You are in the right direction. You should resolve not to permit any reversal", he said, adding that, it was only when they showed resolve and remained focused that they would be able to attract the needed investments to grow the economy.
At the University of Liberia, President Kufuor recognized the pivotal role played by institutions of higher learning in national human capital development and said the University should inculcate in Liberians the spirit of self-sacrifice and patriotism.
President Kufuor, accompanied by Foreign Minister, Mr Akwasi Osei-Adjei and other high ranking Government Officials, during the visit held bilateral talks with President Sirleaf and met with Liberian Cabinet Ministers, United Nations Mission in Liberia (UNIMIL) and the Ghanaian Community. He and his delegation had since returned.