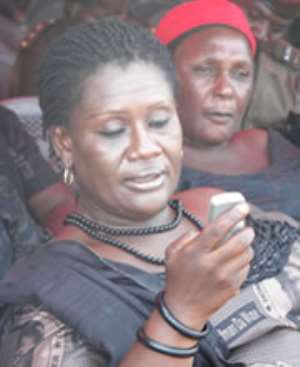 Frances Awurabena Asiam, the convener of Campaign for Effective Leadership, a non-governmental organisation (NGO), on Friday said President John Agyekum Kufuor has chalked much success for the country.
She said Ghanaians would show their appreciation for the President' s achievement by voting for Nana Addo Danquah Akufo-Addo, New Patriotic Party presidential candidate on 7 December.
Ms Asiam was speaking at rally organised by the Nurses and Midwives' Training College (NMTC) branch of the Tertiary students' confederacy (TESCON) of the NPP, in Cape Coast
She said Nana Akufo-Addo would be the right person for the presidency after President Kufuor leaves office because he is a true patriot who stood up for the progress of the country.
Ms Asiam said the presidential candidate is focused on his mission and vision, which have been accepted by Ghanaians.
She said Nana Akufo-Addo "is the man of the moment, the beacon of hope, a unifier and a nationalist who will advance the cause of Ghana."
Ms. Asiam said Professor Evans Atta Mills, National Democratic Congress presidential candidate, would handover power to former President Jerry John Rawlings if his party is voted to power.
She urged Ghanaians to reject the NDC and vote massively for the NPP to facilitate plans to turn Ghana into a middle income country.
Ms. Essiam said "Ghana is a peaceful country and peace must therefore be maintained before, during and after the general elections".