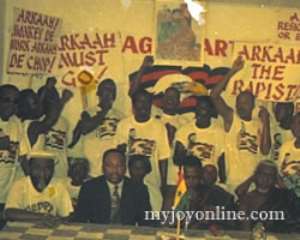 Mr Owuraku Amofa has long ceased to be a member of the EGLE (Every Ghanaian Living Everywhere) Party and cannot speak or act on behalf the party, Mr Jacob Letsor, Vice Chairman of the party said on Friday.
He said Mr Amofa, "cannot therefore be seen or heard to be talking for and on behalf of the party as if he is still, a member wielding any corporate clout, power or influence".
A statement titled: "Owuraku Amofa recent vituperations" issued in Accra, Mr Letsor said Owuraku's chairmanship of the EGLE lapsed long ago when he exited the country in 2000 and ever since he never discharged any duty whatsoever to the party.
Mr. Amofa recently stood on a New Patriotic Party (NPP) platform and openly declared his defection from the EGLE to the NPP. The EGLE party, which formed alliance with the National Democratic Congress in the last elections, is not contesting this year's elections.
Reacting to that, Mr Letsor said, "the right to associate and disassociate is a constitutional mandate and Owuraku Amofa has the option in absolute terms to migrate from one party to the other.
"He should however, not dream or feign such magnetism within the ranks of the EGLE as to assume the pretence of hauling along with him the entire membership of the party to whatever party he selects to join from time to time.
"The entire Executives of the EGLE party condemn his call on the party to come along with him to join the NPP as if the general membership of the party was incapable of individual or corporate thinking…" Mr Letsor said.
He said for Owuraku to state that he joined the NPP because Nana Akufo-Addo, the Presidential candidate of the NPP was his relation and that the NPP is pursuing his grand uncle's (Dr J. B Danquah) agenda was an infantile reason.
The EGLE party, he said, viewed this as an assessment from a political neophyte. The facial configuration of a person has never constituted substantive criterion for election as president for a country.
Mr Letsor said the NDC appointed Owuraku Amofa a deputy Minister of Tourism and Communication so his allegation that the NDC was not receptive to the EGLE party was yet another misrepresentation.
He said Owuraku Amofa was never a founding member of the party but he was elected two consecutive times as chairman of the party and has finished serving his term of office for more than eight years now since he left the country.