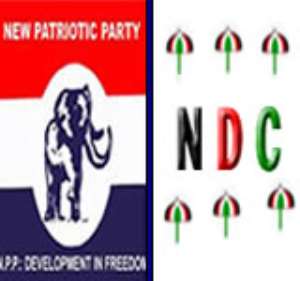 A public debate scheduled for Monday for parliamentary candidates in the Ho Central constituency could not come off for lack of interest by three of the candidates.
Those who failed to attend were Diana Kafui Nane, People's National Convention (PNC), Manfred Nuku-Dei, Architect, Democratic Freedom Party (DFP) and Osei Moses Ernest Kwasi, Convention People's Party (CPP).
The Ghana Centre for Democratic Development (CDD-Ghana) is organizing the debates in conjunction with the Ghana Federation of Disabled (GFD) in 30 constituencies throughout the country to address local issues including those related to the interest of the disabled.
Capt George Nfodjo (Rtd), MP for the National Democratic Congress (NDC), and Dr Archibald Letsa of the New Patriotic (NPP), were present even though the programme was rescheduled several times.
Harrison Kofi Belley, a Programme Officer of CDD-Ghana coordinating the programme in the Volta Region, told the GNA that Ms Nane who agreed to participate allegedly switched off her cell phone.
He said Mr Nuku-Dei, who earlier told him he was travelling to Accra, answered a phone call he made to him using another handset and said he Dei was in Ho.
Mr Belley said the CPP candidate gave a number of reasons the last being the visit of the party's presidential candidate which turned out to be untrue.
The debates, which had been held at Hohoe North and North Dayi, would also take place at Kadjebi for candidates in the Akan constituency and Ketu North constituency.
Mr Belley said criteria for selecting the constituencies throughout the country included competitiveness of the race in those constituencies.
Capt Nfodjoh told the GNA that the debates which were too many and urban centred were disrupting their campaign programmes.
He wished the debates were organized in the rural areas to give people there the opportunity to quiz the candidates.