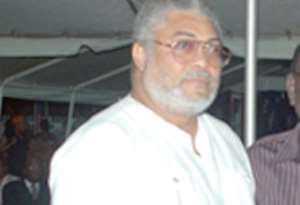 Former President Jerry John Rawlings is under siege over his claim that the flagbearer of the New Patriotic Party (NPP), Nana Akufo-Addo was ridiculing him for crediting 'yo ke gari', and therefore committing an offence for which General Odartey-Wellington, a former Army Commander, was killed.
The NPP had taken a serious exception to the former President's utterances and accordingly notified the Inspector General of Police (IGP) and the Security Services to treat it as a threat on Nana Addo's life.
A statement from the party, signed by its National Campaign Director, Dr. Kofi Konadu Apraku, described Jerry Rawlings' claims as a "deliberate and calculated attempt to incite the military and the National Democratic Congress (NDC) against Nana Akufo-Addo… these threats are  reminiscent of similar threats made against judges who had reviewed and overturned AFRC convictions before he staged the 1981 coup."
The NPP, in the statement, said they would hold the former President fully accountable if anything happens to Nana Akufo-Addo, and called on the party's supporters who were outraged by Jerry Rawlings' statement to exercise restraint while investigations are conducted by the appropriate authorities.
Mr Rawlings recently told a group of Nigerian students at his Ridge residence that General Odartey-Wellington was killed because the former army chief was spreading reports at the military barracks that he, Rawlings, had credited 'yo ke gari' for breakfast, and added that Nana Akufo-Addo had taken the same path.
"One of the Generals who got badly mauled down; they sprayed him with bullets and he stopped. He was called Odartey-Wellington because he also at that time, after the 15th May mutiny when we were arrested, was going down the Unit and sort of messing up my name. One of the allegations he used was that I was a useless officer who could not even afford a meal; and that I was doing so and so.
"Meanwhile, the soldiers he was talking to came from those Units and they knew what happened. He was invoking and provoking hatred against himself with that kind of story. No wonder when the country exploded on June 4th, he was one person who died terribly even though he was one of the fine ones among that corrupt lot."
The former President stressed: "Recently, the flagbearer of the NPP, I understand, used the same allegation against me. He stood on a platform and said his father ensured that he went to a good school and I suppose he must have been referring to me when he said that 'I am not like someone who could not afford yo ke gari".
Though Jerry Rawlings, founder of the National Democratic Congress (NDC), had not denied making the statement, various NDC spokespersons, unable to defend what the former President said, had attempted to either play down the issue or give an outright denial.
A press statement issued from his office and signed by Kofi Adams said during the interaction with the Nigerian students, the former President "mentioned the now famous 'yo ke gari' crediting story and explained that over time the story had been misrepresented.
"He went on to explain that the meals he credited were not meant for him as most had been made to believe, but rather for junior ranks who could not afford such meals."
Kofi Adams took issue with DAILY GUIDE , describing the paper as "unashamedly pro-NPP".
He said the former President did lament the loss of Odartey-Wellington because he respected him as a fine soldier, and cautioned all and sundry including Nana Akufo-Addo to desist from ridiculing the 'yo ke gari' crediting saga by their own interpretation.
In his interaction with the Nigerian students, Rawlings had admitted that though the allegation was true, the subject annoyed the junior ranks in the military because they were beneficiaries of the credited 'yo ke gari' and thus took advantage of the 1979 uprising to spray several bullets into the Army Chief.
"I went with the soldiers to train that morning in my track suit and those days, we had coins and paper money; you are going to sweat with coins in your track suit and with paper money that would get wet.
"I guess if I had been so foolish to carry those things when I was going training and they had gotten wet, and the coins had inconvenienced me, I wouldn't be insulted the way I am being insulted with that event. But the point is, I had the food for the boys.
"I was a young officer, a flying officer and are they trying to tell me that I cannot afford a simple little plate of 'yo ke gari' for my personal self?" Rawlings had queried.
By Halifax Ansah- Addo