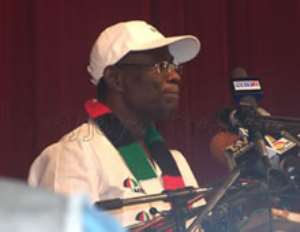 Professor John Evans Atta Mills, presidential candidate of the National Democratic Congress (NDC), has urged Ghanaians to critically examine each party and vote for the one that would be more committed to the well-being of the people.
He said this on Sunday during his visit to the Garu-Tempane, Pusiga and Bawku Constituencies in the Upper East Region where he addressed separate rallies.
Professor Mills said the New Patriotic Party (NPP) government preached and practiced property owning democracy, by which some few people enjoyed at the expense of the masses who voted for them.
He explained that the NDC, when voted into power, would create prosperity for all Ghanaians irrespective of one's political affiliation, ethnicity and social background.
"Everybody knows Ghanaians are suffering and there is the need for a change, so Ghanaians should vote the NDC to power to redeem them from their plight," he emphasized.
Professor Mills explained that under the current government majority of the people especially the youth were jobless and attributed this to the system of education being pursued.
"Most of the youth are unable to go beyond the Junior High School level," he noted.
He said under his administration the youth would be empowered with technical and vocational skills through the establishment of technical and vocational training institutes in each of the district capitals of the country.
Prof. Mills said after their training, the graduands would be assisted financially to establish their own businesses to enable them to become self-employed so that they could in turn provide employment for others.
He said the NDC government, when given the nod, would establish shea-nut industries in the Northern, Upper East and Upper West Regions.
This, Prof. Mills said, would help to provide several tonnes of shea-buter for local consumption and export and that women who picked shea-nuts for processing would also be provided with protective clothes to protect them from snakebites.
He said women would also be assisted financially to undertake economically viable ventures to support themselves and their families.
Prof. Mills said farmers would be trained through extension officers and provided with modern agricultural implements and farm inputs, and that markets would be made available for farm produce.
"What Ghanaian farmers lack is modernized agriculture implements, farming inputs and technical advice which the NDC would provide when elected," he said.
On Ghana's oil find, Prof. Mills explained that under his administration, its benefits would be shared equitably and fairly, and indicated that monies accruing from the oil would be used to provide social services and infrastructural development.
He said part of the monies from the oil would also be reserved for future generations and an independent body would be set up to manage proceeds from the oil judiciously.
Prof. Mills urged the electorate to vote for the NDC to transform the economy and appealed to all stakeholders involved in conducting the elections to be extra vigilant to ensure that the exercise was conducted in a transparent manner.
He stressed the need for peaceful elections and said Ghana was above all sectional interests, and urged Ghanaians to help maintain peace and unity.
Professor Mills also visited some of the traditional authorities in the region including Naba Martin Abilba III, Paramount Chief of Bolgatanga Traditional Area, Bawku Naba Azoka Abugrago II, Paramount Chief of Bawku Traditional Area and Naba Ibrahim Apakwe-Akutu, Chief of Pusiga. They all prayed for him and wished him successes in all his endeavours.
At rally at Pusiga, 22 people announced their defection from the NPP to the NDC explaining that it was only the NDC that could redeem Ghanaians from their sufferings.