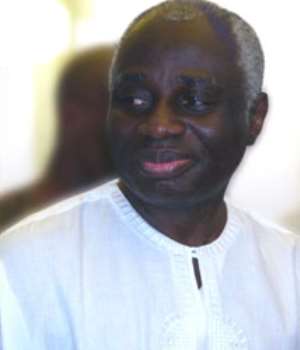 Despite worries over his ailing condition in prison, jailed former boss of the Ghana National Petroleum Corporation Tsatsu Tsikata says he does not seek clemency from government.
Tsikata was rushed to the Intensive Care Unit of the Korle-bu Teaching Hospital after suffering a severe asthma attack, fuelling speculations that the President would exercise his executive power of mercy to set him free.
However, Fui Tsikata, a brother to the incarcerated former GNPC boss, maintains Tsikata needs no clemency because he is innocent and has no reason being in prison in the first place.
"There is no question of seeking clemency and we certainly don't want his health to be used as a pretext," he insisted in an interview with host of Super Morning Show, Kojo Oppong Nkrumah on Monday.
He chided the government for what he says was an interference in the judiciary.
"It is sad what has been done to the judiciary and the legal profession by the government."
"They should leave the doctors alone, they should not interfere with what they are doing and we are not asking for clemency or anything on medical or any ground," he added.
Tsatsu Tsikata is however said to be in a stable condition but it is unclear when he would be returning to prison.
Meanwhile, the prison authorities have dismissed assertions they were slow in acting after news of Tsikata's ailment was brought to their notice.
Gloria Afati Head of the Public Relations Directorate of the Prison Service told Joy News they acted with dispatch.
"Immediately we realised he had the attack we rushed him to our infirmary, from infirmary, he was referred to the Nsawam government hospital, there they realised there was little they could for him, so the prison authorities rushed him to 37 Military Hospital. They gave him first aid and advised that he should be sent to Korle-Bu for the specialist to take care of him," she narrated.
Tsikata was handed a five year sentence for causing financial loss to the state, a verdict he has challenged and has since been commuting between the courts and the prison in an attempt to reverse.
Story by Nathan Gadugah