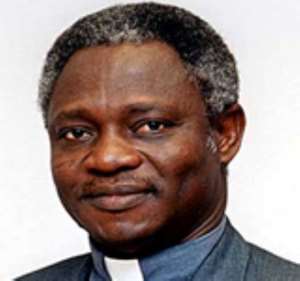 The Chairman .of the National Peace Council (NPC), His Eminence Peter Cardinal Appiah Turkso,n, has warned against the politicization of any conflict in the country.
He said conflicts were bound to happen but noted with regret that in Ghana when they occurred, especially in an election year, as was being witnessed now, people tended to link them to politics.
"We need to avoid this practice as we strive to attain peaceful elections this year," he said.
Cardinal Turkson stated this at the opening of a three-day workshop on election security management in Kumasi.
Journalists, security personnel, members of youth groups, among others, attended the workshop, which was organised by the NPC, with sponsorship from the United Nations Development Programme (UNDP).
Among the topics treated were elections and national security, inter-agency collaboration for peaceful elections and challenges and opportunities of media practitioners during elections.
Cardinal Turkson said every Ghanaian had a role to play in ensuring that the prevailing peace in the country was maintained.
He said the NPC was still looking for a formula to establish regional peace councils in the country.
A member of the NPC, Maulvi Wahab Adam, expressed confidence that Ghana would go through peaceful elections on December 7, in spite of pockets of disturbances in the build up to the elections.
"We have met the presidential candidates and the leadership of the political parties, top security officers, the Chief Justice and other individuals and interest groups and we are convinced that the elections will be peaceful," he said.
He expressed the hope that the unity among the leadership of the parties would trickle down to the grass roots where there had been pockets of disturbances.
Maulvi Adam reminded Ghanaians that they had no other country than Ghana and as such they must protect the nation at all cost against all forms of trouble.
He pointed out that political 'fanaticism of the extreme order, as was being experienced in certain quarters would not do the nation any good.
Speaking on the topic, "Challenges and Opportunities of media practitioners during elections", Mr.Kofi Yeboah, a joumalist with the Daily Graphic, traced the history of the media in the Fourth Republic and said they had performed creditably.
He, therefore, challenged the media to avoid acts that bring the upcoming elections into disrepute.