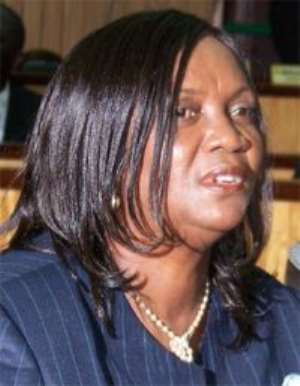 Mrs. Justice Georgina Theodora Wood, Chief Justice, on Tuesday underscored the need for the public to offer fair and constructive criticisms that would improve qualitative justice and the rule of law.
This, she said, would help boost public confidence in the Judiciary.
Mrs. Justice Wood made the call at the launch of a 180-page publication "Manual on Election Adjudication in Ghana", which was published with funding from the United Nations Development Programme (UNDP).
Constitutional provisions impose on the Electoral Commission and the Judiciary the onerous task to ensure that conflicts and disputes arising out of election results are amicably settled.
The CJ said, it was for this reason that the launch of the Election Manual had been timely, adding, "It is one of the important initiatives demonstrating our commitment to the rule of law and the speedy and fair adjudication of all electoral related disputes."
She said the Manual, which was easy to read and digest, was not meant for only lawyers and judges, but for civil society as well.
"Arming ourselves with information and thereby gaining a fair appreciation of the litigation procedures will work to every stakeholder's advantage."
She pointed out that the collective will and effort of all Ghanaians, genuinely working together towards transparent and credible elections was absolutely essential to the success of the upcoming elections.
Mrs Justice Wood made reference to the recent election related upheavals in Kenya at the beginning of this year, and in Zimbabwe in the middle of the year.
For this reason, she gave the assurance that the Judiciary was fully prepared to handle, in an expeditious, fair and effective manner, election disputes that might inevitably end up at the courts, as a result of grievances with the electoral process.
"I thought the competent disposal of cases could be achieved through a number of interventions, including the production of an easy-to-read, concise handbook on election dispute adjudication which should serve as a helpful guide to judges, lawyers and other stakeholders to facilitate their effective participation in the process, hence the launch of this manual."
The CJ intimated that in a week's time, all Court of Appeal and High Court judges, as well as Registrars, private bailiffs processing companies and other key court staff would attend a two-day intensive training programme on election dispute adjudication.
Source: GNA