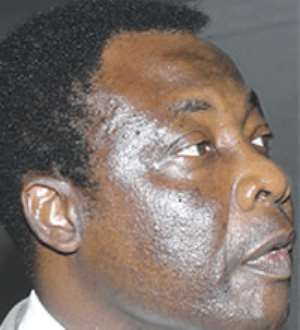 Former Minister for National Security, Francis Poku, has denied being insolent to President J.A. Kufuor during a meeting in the latter's residence on January 12, this year, during which he was relieved of his post.
According to the ex-minister, he discussed matters of policy with the President who thought it fit to relieve him of his post, after thanking him for his services rendered to the nation.
In a rejoinder to a story published last week by Myjoyonline on proceedings in Parliament during which the Chief of Staff, Mr. Kwadwo Mpiani answered questions relating to the whereabouts of Mr. Poku and related security matters, the ex-security chief said at no time during the said meeting did he show any disrespect to the President, contrary to what the said publication suggested.
"Our client wishes to clarify that the meeting between himself and the President of the Republic of Ghana prior to his removal as Minister for National Security, was completely devoid of any accusations relating to his professional conduct, his integrity, or any acts of impropriety or dishonesty," the rejoinder signed by Dr. Raymond Atuguba, a member of his counsel, read.
Francis Poku also denied owning any houses at Trasaaco Valley in Accra and said his daughter, Ms. Mary Poku, an attorney in the United Kingdom has previously addressed those allegations. Indeed Ms Poku has previously told The Ghanaian Chronicle newspaper in an interview also published by Myjoyonline, that she owned the only building at the said location.
Francis Poku said he is committed to democratic processes and wished all the presidential candidates in the December elections all the best.
He also urged Myjoyonline to focus on "the challenges that confront our Country in an election year and with the discovery of oil and gas resources."
Editor's Note: Indeed, Myjoyonline regrets parts of the publication complained of, which suggested rather wildly what may have occurred at the meeting between the former Security Minister and President Kufuor at the latter's residence.
Myjoyonline apologizes unreservedly to Mr. Francis Poku for any harm he may have suffered as a result of the said publication.
See below the unedited rejoinder by the former National Security Minister.