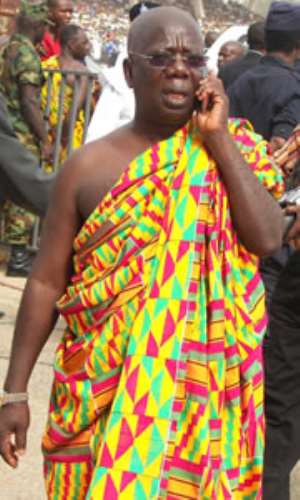 The Chief of Staff, Mr. Kwadwo Mpiani has described as baseless and untrue, allegations that President J.A. Kufour is indebted to some Kuwaiti finance company on a botched oil business.
Mr. Victor Smith, editor of the Weekly Standard newspaper, and former special aide to ex-President Rawlings, said on various Joy FM programmes last week that the President has been secretly financing a US$5.5 billion debt after embezzling the amount entrusted in his care.
Victor Smith has declined to publish evidence to back his claims but says he is prepared to help either Parliament or the Commission on Human Rights and Administrative Justice with crucial information to investigate the case, expressing the hope that they can only come to a conclusion that would collaborate his claim.
But according to Mr. Mpiani, Mr. Smith cannot produce evidence to substantiate his contention.
Speaking on Asempa FM´s `Ekosii sen´ programme on Monday, the Chief of Staff stated that Victor Smith´s attitude does not show respect to the Office of the President and must be stopped because, people of such calibre tarnish the image of the nation with lies.
He also condemned allegations leveled against himself suggesting that he travelled to London to attempt to resolve the same Kuwaiti issue, labeling the allegations as untrue and baseless.
The presidency last week issued a 14-day ultimatum to Victor Smith and the National Democratic Congress to retract the allegation or answer charges in court, however Victor Smith has said he stands by the claims.
Speaking on "Ekosi sen", Victor Smith disclosed that the 14-day ultimatum issued by the presidency will never force him to produce evidence to back the allegation leveled against the President.
He further stated that, he has not been served with any letter regarding the 14-day ultimatum from the presidency and as such he is not ready to apologize for the story.
Story by Alfred Frimpong, Asempa FM