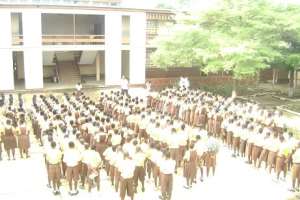 706,000 children and workers in the Tema Metropolis have raised a loud voice and an action against poverty and inequalities in the country.
The children who gathered at the Tema Sports Stadium last Friday used games to register their displeasure on the state of poverty in the country and to also call on government to be proactive in eradicating poverty and inequalities.
Engaging themselves in soccer, the children displayed the consequences of poverty and inequalities on their livelihoods as part of the global stand up and take action campaign.
The game was organized by Abibimman Foundation in collaboration with the Ghana Education Service and Right to Play International.
Displaying placards with the following inscriptions, "No Excuse for 2015, Gov't must support the local sector, say no to EPAs, support agric sector, stop paying lip service to local industry, elections must be peaceful and we are the future of Ghana", the children tasked government to provide employment opportunities for their parents to support their livelihood.
Magaret Etu, a pupil of Lorenz Wolf Junior High School in Tema who led her colleagues to read the Stand Up pledge, noted that the MDGs are Children Development Goals, adding that its attainment will secure their future.
She continued that government must put in place prudent economic policies to facilitate the attainment of the goals. According to her, the agric sector provides an enormous opportunity for the country to achieve the goals.
"It is disheartening that the educational standard of this country keeps dwindling. Most of us children here do not have the required textbooks, teachers and classrooms to facilitate teaching and learning" she indicated.
Ms. Etu continued that the recent BECE results which about 40 percent of the candidates failed are all indications of how poor the educational sector is faring.
The soccer competition saw Oninku Junior High School emerging as the winner. The school received the prestigious Kofi Annan Peace Cup. Other competitors were also given some football items donated by Right to Play.
School pupils in Aggrey Road JHS, Star Basic and Sakumono School Complex embarked on action at their various morning assemblies through shouts and reading of the pledges.
Meanwhile, over 830 students from high schools in Tema and some residents of Tema signed against poverty on banners which were circulated in offices, market places, lorry stations and mosques.
The MDGs are eight-bound goals which was ratified by 189 Heads-of-States at the United Nations headquaters in New York.
By Kenneth Nana Amoateng
Abibimman Foundation -Ghana