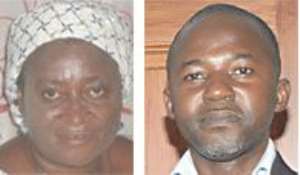 The People's National Convention (PNC) yesterday broke the gender chain by naming a 49-year-old woman as the running mate of the party's flag bearer, Dr Edward Mahama.
By that significant announcement made at the party's headquarters in Accra, Ms Petra Maria Amegashie thus becomes the first woman to join the presidential ticket for the December 7, 2008 elections.
The New Patriotic Party (NPP), the National Democratic Congress (NDC) and the Convention People's Party (CPP) have all-male tickets for the presidential race in December.
And before the PNC's announcement yesterday, Mr Kwesi Amoafo-Yeboah, an independent presidential aspirant, had nominated another man, Mr X-Shalom Yaw Gonu, a 41-year-old businessman and media relations expert, as his running mate to contest the December presidential election.
Explaining his preference for a woman, Dr Mahama said females were good managers at home and everywhere and, therefore, it was high time they were given the opportunity to be part of the presidency.
"It is not because she is a woman, but we know that women, especially Ghanaian women, are capable and qualified.
We are taking the example from Britain where Margaret Thatcher led the whole country to war, as well as the excellent work being done by Mrs Johnson-Sirleaf in Liberia," he added.
Dr Mahama, a Christian from the north, which is predominantly a Muslim community, said he went in for a Christian woman to balance the PNC ticket.
Ms Amegashie hails from the Volta Region and, according to the PNC flag bearer, she is a courageous woman who could step forward and pick forms from the Electoral Commission (EC) to contest the 2008 elections as an independent presidential candidate.
He said his running mate believed in improving the lot of Ghanaians, especially the poor and the vulnerable, and "this made it easy for us to agree politically".
Regarding her personality, Dr Mahama said "only time will tell but I believe that she has an affable personality, she is charming with presidential qualities".
Ms Amegashie, who was described by Dr Mahama as a "Catholic evangelist", was the Special Assistant to the CEO of Baywater Contract Mining, with additional responsibility for translating all communication from all Francophone countries between 2004 and 2006.
From 2001 to 2004, she was the Co-ordinator for Misso Ad Gentes (Evangelisation of the People), a programme organised from Rome for the Episcopal Conference in Africa.
She had also had a stint with the Ghana News Agency as a reporter from 1986 to 1987 when she was doing national service.
Mr X-Shalom Yaw Gonu, Mr Amoafo-Yeboah's running mate, is multi-lingual and speaks English, French, as well as many Ghanaian languages, including Ewe, Ga and Akan.
He is a teacher by profession and has been involved in the tourism and hospitality industry in the country.
Introducing his running mate to the Daily Graphic in Accra, Mr Amoafo-Yeboah said he had been looking for a person with a passion to help speed up the pace of the country's development.
He said with Mr Gonu on board his campaign train, he was now ready to file his nomination papers with the EC on Thursday, having completed the EC's requirements.
He described Mr Gonu as a self-made practical person who had exhibited passion for the nation and demonstrated a proven record of upward progress in life.
"In Mr Gonu, I have someone who believes, as I do, that we are not enemies and that all of us Ghanaians share common enemies and problems of poverty, unemployment, disease, bad roads, among other issues," he stated.
The independent aspirant said "until Ghanaians focus on these issues as a collective, it will be difficult to overcome them".
Mr Gonu, for his part, pledged his readiness for the national assignment, saying, "I am cut for the job and I will flow with Mr Amoafo-Yeboah as President."
He said Ghana could not develop when its human resource had not been brought on board the governance of the nation.
Mr Gonu indicated that Ghana was facing the problem of polarisation where a culture of "us against them" seemed to be the order of the moment.
He said if such a situation was allowed to prevail in the body politic of the country, it would engender tension, violence, suspicion and corruption which would go a long way to thwart the development efforts of the country, stressing that "a divided house cannot stand together".
That was the reason Ghanaians should support Mr Amoafo-Yeboah's bid to win the presidency to bring about real peace, unity of purpose and accelerated growth and development, he stated.
He said Ghana needed a clean playing field and it was an independent candidate who could work to ensure there was peace, progress and prosperity in the country.
He said, for instance, that President J.A. Kufuor and former President Rawlings could sit down and work together to resolve the problems of Dagbon and Bawku but because they had not done so, those problems raged on.
"It will require an independent person to reconcile the society," he explained, saying that the Republic of Benin had done it and it was working for the people.
He said in unity, Ghana would not waste scarce resources on conflict resolution but rather use those resources for socio-economic development that would enhance the living standards of the people.
He said as a professional teacher, he was also going to support Mr Amoafo-Yeboah's policy of bringing education to the doorstep of every Ghanaian and get the people to appreciate their civic responsibilities to the country.
"Now we are looking forward to going to file our nomination with the EC on Thursday and after we are firmly on the electoral list of presidential candidates, our political machinery will get rolling into every nook and cranny of the country," he stated.
Mr Gonu holds a Bachelor of Technology degree and considers the issue of sanitation as very close to his heart.
His father comes from Anfoega, while his mother is from Techiman.
He currently manages the Volta Premier FM in Ho and also deals in property.
Story by Kobby Asmah & Donald Ato Dapatem