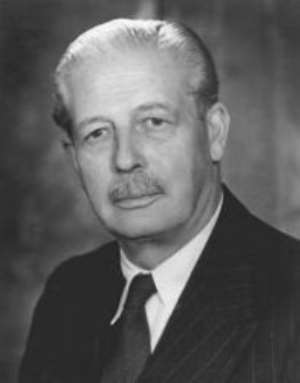 One time British Cancellor, Harold Macmillan
"They appear to be incompetent, cruel, divided and corrupt" Harold Macmillan, one time British Chancellor described Ghanaians in a conversation in the British Cabinet, prior to Independence over 50 years ago.
Unfortunately, foreigners' opinion about us has not changed and our own opinion of ourselves is pretty much the same. Luckily, these characterizations are not inherently genetic.
No one is ever born with an incompetent gene nor a corruptible chromosome. I can say with absolute certainty. Thank God. The problem is a suffocating ugly poverty that numbs the mind, crushes intellect, debilitates thought and the thought processes, blinds awareness and perception and subjugates the soul.
Ghanaians will need to think more, but are we adequately equipped for critical thinking. No one is born with an inbuilt pre-packaged logical thinking operating system. They are acquired.
In the absence of an enabling environment, deficient education and knowledge, exceptionally thin vocabulary we become unaware of assumptions, we are unable to make these assumptions explicit nor are we able to assess their accuracy. In their absence our actions, decisions and judgements lead to the kind of assessment rendered by Harold Macmillan.
In this conversation I am proposing that we attack one of the major factors of our continual physical and intellectual deprivation, the ugly, repulsive and hideous African poverty.
In all human races majority of people work for either a small business owner, a medium company or a large corporation. In simple language, very few humans are entrepreneurs. Majority of people work for others and are managed by others.
When the opportunity to work for others and be paid a decent salary is absent whether in Europe or Africa the resulting outcome is human intellectual and physical deterioration.
There are African entrepreneurs and an insufficient number of medium companies, not enough to employ majority of our people and halt the downward spiral to doom and gloom.
We cannot afford to continue with the trickle manner of our development, we need a massive increase within a decade of a large number of small and medium corporations to absorb all able bodied Ghanaians. We cannot wait for foreign investments that never come.
We need a new approach now. It is tragic to have majority of Ghanaians wake up and have nothing to do all day, when we have roads to build, crops to plant, grains to store, canals to build, houses to construct, environment to restore, kids to teach and sanitation to provide.
We need to make up the shortfall in the small and medium size companies to employ our people to reduce poverty and restore the conditions and that encourages critical thinking and halt the deterioration.
I propose that the most organised units in our society carry the greater burden and make up the shortfall in the establishment of wholly privately owned corporations to employ our people and export our primary and secondary products.
As disorganised as we are there are still pockets or units in our society that are more organised, more capable and have a history of managing projects and people more than other groups or individuals who currently carry all the burden of private sector investments and hiring.
Among these units are the Ghana Army, the Ghana Navy, the Ghana Air Force, the Ghana Police, The District Assemblies, The Public Universities, The Ghana Education Service etc What I am proposing is that the Army or any of these organised units should be capable of raising capital on its own merit without any sovereign guarantees, to set up business entities and employ civilians.
Are there precedents to what I am proposing and can the army for instance own and operate a tyre manufacturing plant? a car assembling plant, a sugar factory, spare parts manufacturing plant, modern cocoa, coffee, cashew, cotton, rice plantation, a road or building construction company or enter into partnership with foreign companies.
I will say sure. If anyone can train managers and CEOs, these are groups sure could. The Ghana Army and Police have run successful hospitals and can easily translate that into other ventures.
Others such as the Chinese have done as well (CHINESE MILITARY COMPANIES TO RAISE CNY35BN IN 08AsiaInfo Services, February, 2008).
Credit: Eric Owusu Sekyere PhD.