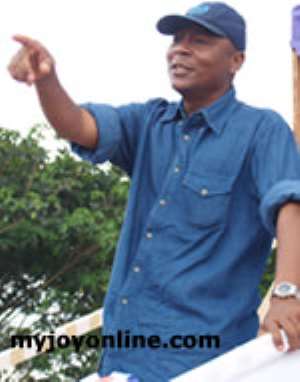 Works and Housing Minister Alhaji Abubakar Boniface Saddique says government has not reneged on its promise of providing affordable housing units for workers.
The New Patriotic Party in the year 2000 promised in its manifesto to build 5,195 housing units to reduce a 500,000 housing deficit in the country, but close to eight years, government is yet to complete any.
Its presidential candidate Nana Akufo-Addo at a forum with the Institute of Economic Affairs promised to build 50,000 housing units, if given the nod in the December polls.
With the 2000 promise still hanging in the balance, questions have been raised about the party's ability to deliver on its new promise if voted into power for a third consecutive term.
But Alhaji Boniface Saddique said government was still on course to deliver on its promise, the delay notwithstanding.
"The housing units have not been completed, we are on schedule we got handicapped with finance," the minister confessed in an interview with Joy FM's Kojo Oppong Nkrumah on the Thursday's edition of the Super Morning Show.
According to him government has secured a loan from the Social Security and National Insurance Trust (SSNIT) to finance the project.
The minister dismissed assertions that the government had failed in the housing sector having repeated in verbatim the promises it made in the 2000 manifesto in that of 2008.
For instance on page 23 of the 2000 manifesto the NPP promised among other things to provide employers tax credits for implementation of housing schemes for their workers, interest charges on mortgages would be tax deductible, and to treat the construction of the owner occupied houses as new investment for tax purposes.
These promises have been repeated on page 55 of the 2008 manifesto.
Asked whether the repetition was an admission that the promises had not been fulfilled, Alhaji Saddique responded "when promises are made, it doesn't mean it should be fulfilled immediately, there could be some constraints that bars you from delivering, it is the intention that once you made the promise, you need to deliver, so that you don't become haunted by the promises you made."
"If you make a promise and you are not done with it, don't you repeat it," he asked rather reluctantly.
According to him, government had made funds available to the Bank for Housing and Construction to be made available to workers who wanted to build, adding "government has also made the attempt to build the affordable houses for workers."
This he said was in fulfillment of the promises it made in 2000.
He reiterated government's commitment to provide low cost housing for workers across the country having started with five regions in the country.
Story by Nathan Gadugah